Godrevy Lighthouse

St Ives, Cornwall

Location Guide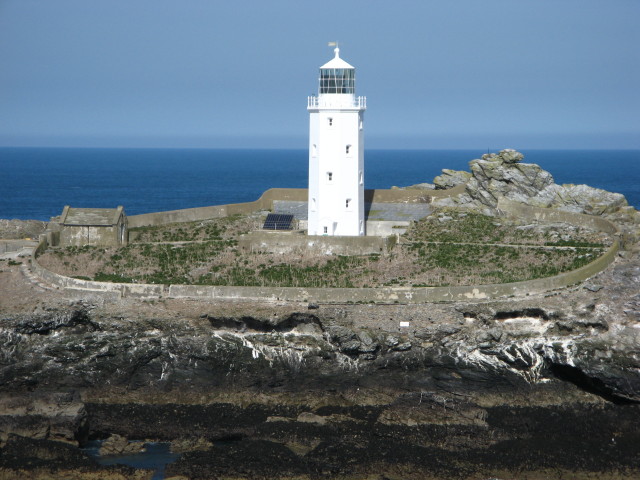 The Godrevy Lighthouse on Godrevy Island from Godrevy Point at low tide.

Picture from Geograph

Godrevy Island is located 3½ miles across St Ives Bay, where rugged cliffs rise from the sea. A dangerous reef extends outwards towards St Ives, called the Stones and on this many vessels have come to grief. Godrevy island is the largest of the stones.
Although the island is close to the mainland, it is open to the full force of Atlantic gales. In springtime, carpets of brightly coloured primroses, sea thrift and heather bring beauty to the scene, Gulls, oyster-catchers and pipits make their homes on the island, which is partly covered with grass, as it slopes down to the sea.
There had been many requests for a light over the years but nothing occurred until a major disaster focused attention in this area. On 30th November 1854, the iron screw steamer, the NILE, was totally wrecked with the loss of all passengers and crew, and under public and mercantile pressure, Trinity House finally decided to erect a lighthouse in 1859. James Walker designed the station, and its welcome light shone out on 1st March the same year. Two keepers were originally appointed to the lighthouse and they maintained the two lights, one a bright flashing white every 10 seconds, and the other fixed red, which marked the Stones Rocks. Their range was 17 and 15 miles respectively.

The white octagonal tower, 26 metres high, is made from rubble stone bedded in mortar, and is sited together with its adjoining keepers' cottages almost in the centre of the largest of the rocks. The cost of the station was £7,082 15s 7d. The original optic revolved on rollers on a circular race and was driven by a clockwork motor. This motor was in turn driven by a large weight running down a cavity in the wall of the tower. The station was also equipped with a 3cwt bell as a Fog signal, and this was struck once every 5 seconds.

The lighthouse was altered in 1939, when a new 2nd order fixed catadioptric lens was installed, together with an acetylene burner. The fog bell was also removed, the keepers withdrawn and the lighthouse made automatic. Finally Godrevy Lighthouse was modernised in 1995 when it was converted to solar powered operation. The lighthouse is now monitored and controlled from the Trinity House Operations Control Centre at Harwich in Essex.

Photo from Flickr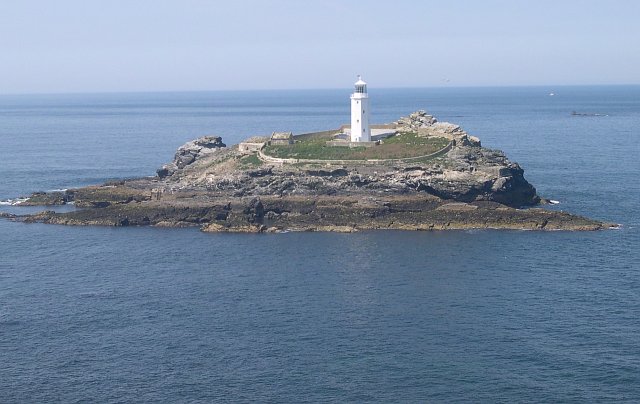 Photo by Tony Atkins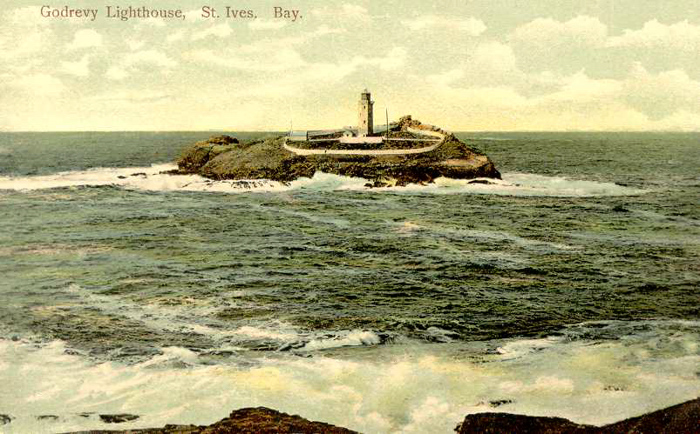 Old Photochrome postcard probably before 1920.
It does not appear to have changed very much since it was built.
The author, Virginia Woolf, spent holidays at Talland House in St Ives, and her view of this lighthouse inspired the writing of her most famous work, 'To The Lighthouse'. In January 2005, there were plans to put up a building that would have blocked this view, but the land was then bought and donated to the Truro's Hall for Cornwall, a local theatre organization. In 2009 the Hall placed the land for sale, but the buyer must maintain public access to the lighthouse.
Trinity House announced plans to deactivate the light, but in August 2005 it decided to keep it going at a lower power

in the face of widespread protests. This came in part about through proposals to build on access land, which was later overcome, mentioned above.
---
Lighthouse information Grid

Name:

Godrevy Lighthouse, St Ives, Cornwall

Current status:

Currently in use

Geographic Position:

50 14'.5 N 05 23'.9 W

Grid Reference:

SW580431

Ceremonial County:

Cornwall

Appearance:

octagonal stone tower, painted white, sitting inside a small island.

Map Link:

Aerial photo:

Google satellite view

Other photos:

Geograph

Originally built:

1858

Current lighthouse built:

Height of Tower:

26m

Height of light above mean high sea level:

37m

Character of light:

1 White & Red Flash Every 10 Seconds

Character of fog signal:

The station was also equipped with a 3cwt bell as a Fog signal, and this was struck once every 5 seconds. I don't think this is now used.

Range of light:

White Sector 12 nautical miles, Red Sector 9 nautical miles

Owned / run by:

Trinity House

Getting there:

Accessible only by boat

Access:

Site open, tower closed.

Good views from the South West Coastal Path

Website:

TH

Other Useful Websites:

Routes:
Other Relevant pages:

Notes:
Please let us know any other information that we can add to the Grid or page and any errors that you discover. Before making a long trip to any location it is always wise to double check the current information, websites like magazines may be correct at the time the information is written, but things change and it is of course impossible to double check all entries on a regular basis. If you have any good photographs that you feel would improve the illustration of this page then please let us have copies. In referring to this page it is helpful if you quote both the Page Ref and Topic or Section references from the Grid below. To print the planning grid select it then right click and print the selected area.
Please submit information on locations you discover so that this system continues to grow.