Crow Point Lighthouse

aka Braunton Sands Lighthouse

Tay Estuary, Devon

Location Guide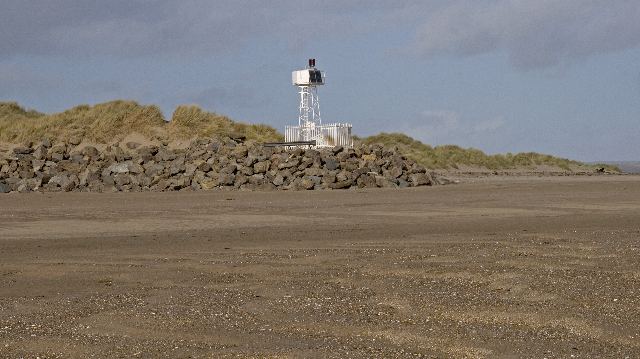 Photo by Rabbi WP Thinrod

Crow Point Lighthouse gives a guide to vessels navigating the Taw and Torridge estuary in North Devon.
It is a small tubular steel structure with the light just 7.6 metres above Mean High Water.
Originally powered by acetylene gas, Crow Point was converted to solar power in 1987.
There are specified rates of dues to to be paid (voluntarily) by the owners of passing vessels.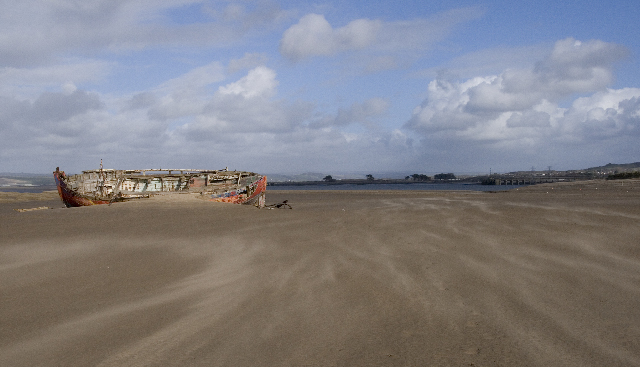 A hulk on the sand dunes taken 2008

Photo by Rabbi WP Thinrod

Low Spring tides expose large sand banks known as The Neck. The light, marking the junction of the Taw, Torridge and the seaway, has seen less commercial traffic since the demise of Yelland Power Station across the river.
The light is operated by Trinity House and was converted to solar power in 1987.
History
There were two earlier lighthouses near this site, that worked as a high and low pair, but no remains exist now of either of these.
| | |
| --- | --- |
| | |
Originally there were high and low lighthouses at Braunton Sands, built around 1820. The high light was a remarkable octagonal wood tower 86ft high mounted on top of a 2 storey keeper's house. These lights were demolished in 1957, when the current lighthouse was built to replace it.

The high lighthouse was a tall, close boarded, octagonal tower, which was painted white with a red stripe and it stood 86ft tall – the light was visible for 14 miles.

In addition to the main lighthouse, which was known as the High Light, about 300 yards further north stood a Low Light and this was also the responsibility of the keepers.

The low lighthouse was a close boarded wooden hut with a window light, which was also painted white with a red stripe, but stood only 15ft tall.

We know a little about the lighthouse keepers at one time, photo bottom right. One was a single man and the other a man with a wife and daughter. Provisions, including fresh water, were sent over the Estuary from Appledore rather than across the Burrows from Braunton, which was by comparison very difficult to access, especially in bad weather.

Small photos - old photos of Braunton Sands High Lighthouse from the first part of the last century.
Back to the Present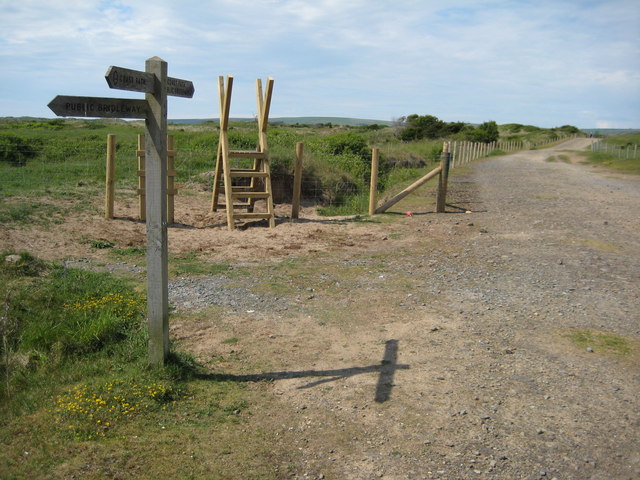 Photo by Phillip Halling

Image taken at grid ref SS463327

where the land joins the sands going out to Crow Point. The photo shows a junction of paths at the southern end of Braunton Sands, the main route of the South West Coastal Path


follows this track with a bridleway leading off it to the mouth of the Taw/Torridge estuary.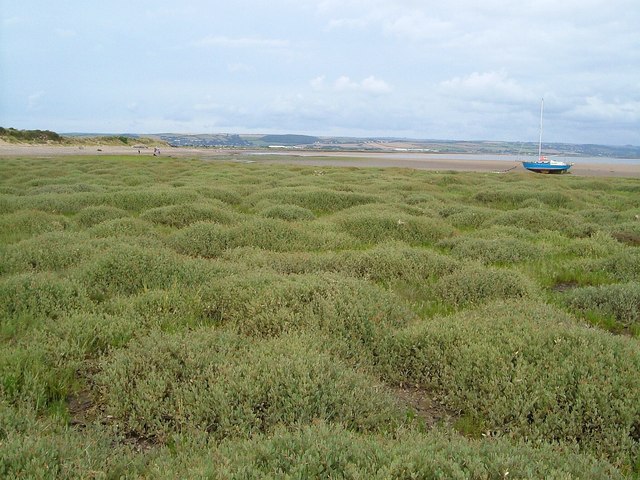 Photo by Derek Harper

at grid reference SS465323
on the sands just to the north of Crow Point.
Salt marsh near Crow Point, an area of salt-loving plants in the lee of Crow Point on the Taw estuary.
---
Lighthouse information Grid

| | |
| --- | --- |
| Name: | Crow Point Lighthouse, Braunton, Devon |
| Current status: | Currently in use |
| Geographic Position: | 51° 03.9 N 04° 11.3 W |
| Grid Reference: | SS466319 |
| Ceremonial County: | Devon |
| Appearance: | |
| Map Link: | |
| Aerial photo: | Google satellite view |
| Other photos: | Geograph |
| Originally built: | 1820 |
| Current lighthouse built: | 1954 |
| Height of Tower: | 5m |
| Height of light above mean high sea level: | 7.6m |
| Character of light: | One Red Flash Every 5 Seconds |
| Character of fog signal: | |
| Range of light: | 4 nautical miles |
| Owned / run by: | Trinity House |
| Getting there: | |
| Access: | |
| Website: | |
| Other Useful Websites: | |
| Routes: | |
| Other Relevant pages: | |
| Notes: | |
Please let us know any other information that we can add to the Grid or page and any errors that you discover. Before making a long trip to any location it is always wise to double check the current information, websites like magazines may be correct at the time the information is written, but things change and it is of course impossible to double check all entries on a regular basis. If you have any good photographs that you feel would improve the illustration of this page then please let us have copies. In referring to this page it is helpful if you quote both the Page Ref and Topic or Section references from the Grid below. To print the planning grid select it then right click and print the selected area.
Please submit information on locations you discover so that this system continues to grow.