Bull Point Lighthouse

Mortehoe, Devon

Location Guide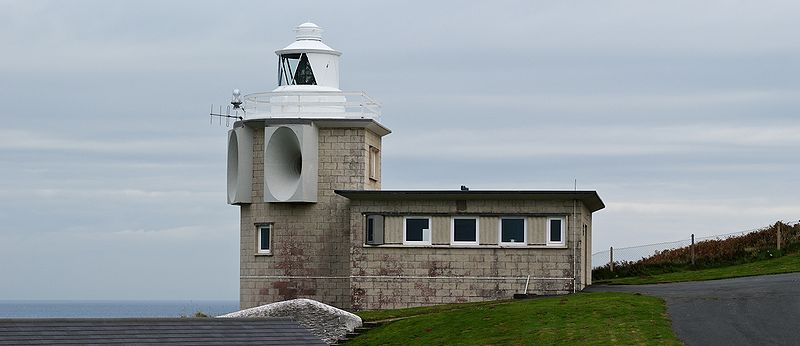 Image from Wikipedia media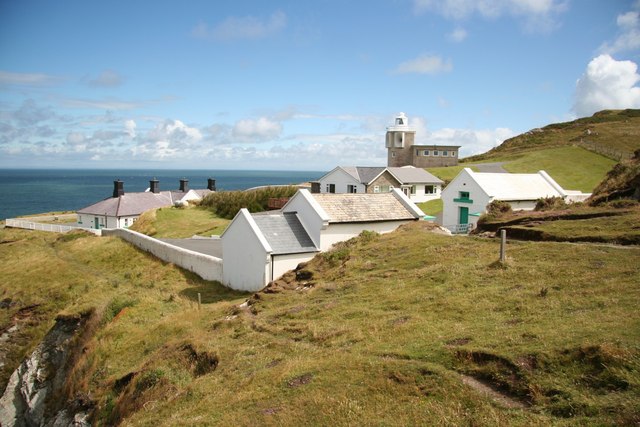 Photo by Richard Croft

Bull Point Lighthouse is a lighthouse on Bull Point, about one mile north of the village of Mortehoe in Devon. The original lighthouse was constructed in 1879 after a group of local "clergy, ship-owners, merchants and landowners" appealed to Trinity House for one. The Lighthouse gives a guide to vessels navigating off the North Devon Coast with a red sector light marking the Rockham Shoal and the Morte Stone off Morte Point.
A fog horn was added in 1919 and it was electrified in 1960.
3 Old postcard images of the original lighthouse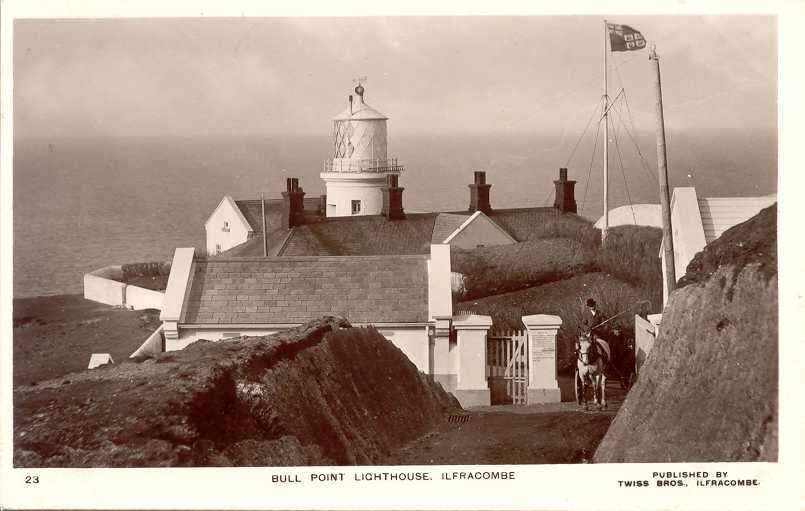 This one we know must have been in 1919 or later as it features the fog horn added in 1919
In September 1972, after 93 years of operation without major incident, the headland on which the lighthouse stood subsided making the structure dangerous. On 18th September 1972, the Principal Keeper reported ground movement in the area of the engine room and the passage leading to the lighthouse, and that 2" fissures were opening up. In the early hours of Sunday morning, 24th September, 15 metres of the cliff face crashed into the sea and a further 15 metres subsided steeply causing deep fissures to open up inside the boundary wall. Walls cracked and the engine/fog signal station partly collapsed, leaving it in a dangerous condition and putting the fog signal out of action.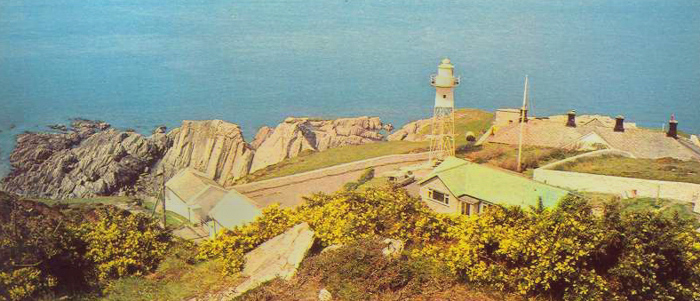 A temporary tower was used for two years at Bull Point.
Trinity House used an old light tower from elsewhere for two years whilst a new structure was built further inland. The lighthouse was designed and built so that all the equipment from the old lighthouse was utilised and after some modification made, this was completed in 1974 at a cost of £71,000 and is currently in use. It was fully automated from completion.
The diaphone foghorn was switched off in 1988 and the lighthouse was automated in 1995. The site can be visited by an adjacent public footpath. The old lighthouse keepers' cottages are now being let out to tourists as self catering holiday establishments.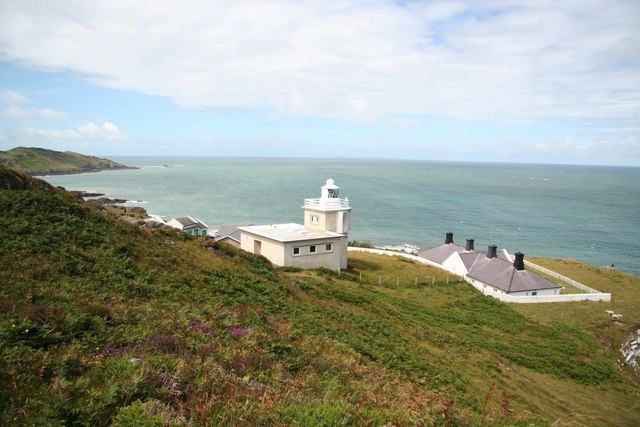 Photo by Richard Croft

---
Lighthouse information Grid

Name:

Bull Point Lighthouse, Devon

Current status:

Currently in use

Geographic Position:

51° 11'.95 N 4° 12'.05 W
Headland near the village of Mortehoe

Grid Reference:

SS462467

Ceremonial County:

Devon

Appearance:

Square cylindrical brick tower with lantern and gallery, attached to 1 storey utility building

Map Link:

Aerial photo:

multimap Google satellite view

Other photos:

Originally built:

1879 further towards the sea from current position

Current lighthouse built:

1974

Height of Tower:

11m

Height of light above mean sea level:

54m 177ft

Character of light:

3 White Flashes Every 10 Seconds

also a continuous red hazard light is shown westward over Rockham Shoal.

Character of fog signal:

fog signal was discontinued in 1988

Range of light:

24 nautical miles

Owned / run by:

Trinity House

Getting there:

2 km (1.2 mi) north of Mortehoe and on the

Access:

site is open but tower is not.

Website:

TH

Other Useful Websites:

Wici

Routes:
Other Relevant pages:

Notes:

Keepers cottage available now as holiday rental Rural Retreats
Please let us know any other information that we can add to the Grid or page and any errors that you discover. Before making a long trip to any location it is always wise to double check the current information, websites like magazines may be correct at the time the information is written, but things change and it is of course impossible to double check all entries on a regular basis. If you have any good photographs that you feel would improve the illustration of this page then please let us have copies. In referring to this page it is helpful if you quote both the Page Ref and Topic or Section references from the Grid below. To print the planning grid select it then right click and print the selected area.
Please submit information on locations you discover so that this system continues to grow.