Berry Head Lighthouse

Brixham, Devon

Featured Location Guide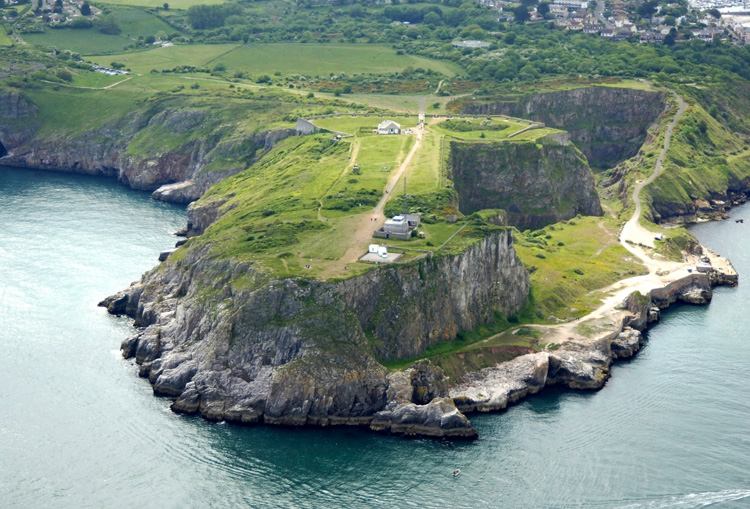 Aerial Photo by Marinas.com

more images are available
The smallest, highest and deepest lighthouse in the British Isles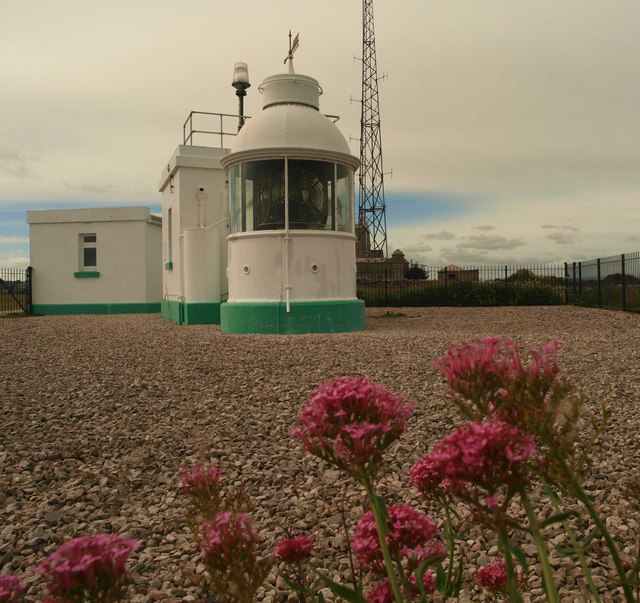 Photo from Geograph

The Lighthouse
Berry Head is said to be the shortest lighthouse in Great Britain, but also one of the highest, being only five metres tall, but 58 metres above mean sea level. It sits on top of limestone cliffs on Berry Head, a coastal headland at the southern end of Torbay, to the southeast of Brixham in Devon.
It is also said to be the deepest lighthouse in the British Isles. Originally the optic was turned by a weight driven mechanism. The weights dropped 45m down a shaft. An electric motor is now used. The lighthouse was built in 1906 and automated in 1921. The station was converted to mains electricity in 1994.
Although the histories I have read make no mention of it running on oil or gas, I think this is likely as at some point there are large tanks shown next to it, in an old postcard photo (below). One account does mention acetylene, which would have been stored in tanks.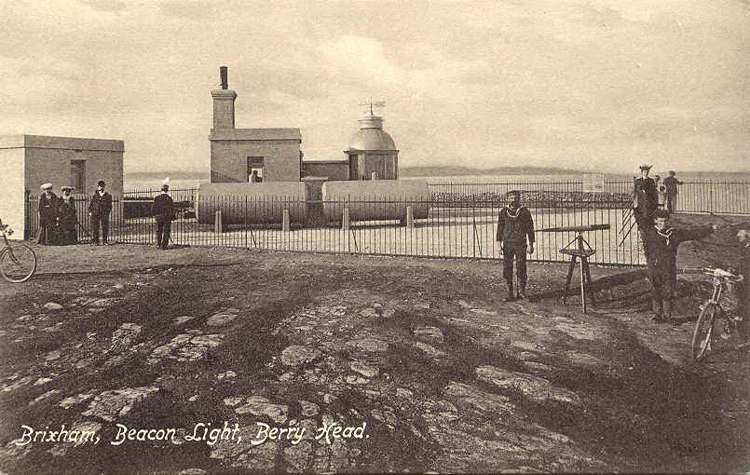 Old postcard Photograph - from Camera Images GBPictures archive
The lighthouse is at the end of the headland, pasta coastguard station, and is a part of a chain of south coast beacons.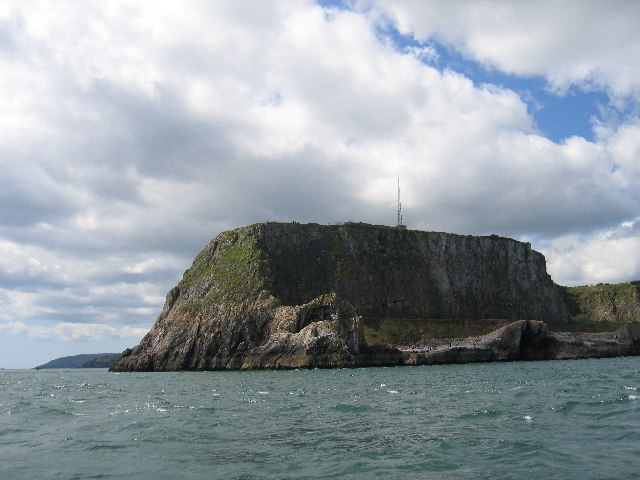 Photo by David Stowell

Berrey Head
Berry Head, designated as an area of outstanding natural beauty, is an extensive limestone headland. Its shape is the result of a vast amount of quarrying carried out in the past. The near perpendicular cliffs rise 60m and the constant action of the waves has gouged out huge caverns. The plateau is green with plants, some of which are rare, pink thrift, white sea campion, autumn squill, wild rock rose, goldilocks and honewort. The rocks and cliffs are abound with jackdaws, pigeons, kestrels, kittiwakes, gulls and guillemots. Fine views are to be had and it is possible on a clear day to see Portland Bill, over thirty-five miles away.
Semaphore signalling apparatus was on Berry Head before 1875 and acted as the Lloyds' Signal Station for Torbay.
Berry Head is the site of an Iron Age hill fort, which was mostly destroyed by the construction between 1794 and 1804 of extensive fortifications to protect the Torbay naval anchorage against threatened invasion by French armies. Torbay and Brixham roads have long been sheltered anchorages, surrounded as they are by high hills and cliffs. Fortifications were erected on the headland in 1793/4 against threatened invasion by French armies and strengthened with limestone in 1803/4, when gun batteries were added to protect the anchorages. They were dismantled by 1820 and returned to civilian use, but the ramparts remain, overgrown with ivy. The former artillery house now houses a public display, featuring details about the history of the area, its wildlife and how it became an important strategic point.

Berry Head fortifications Photo by Paul Hutchinson

Two forts were built on the pre-existing Iron Age Hill fort site overlooking Torbay naval anchorage.
Fortifications were erected on the headland in 1793 against threatened invasion by French armies
and strengthened with limestone in 1803, when gun batteries were added to protect the anchorages.
They were abandoned after two years when the War of American Independence finished, and
the armaments were moved to Plymouth, but the ramparts remain.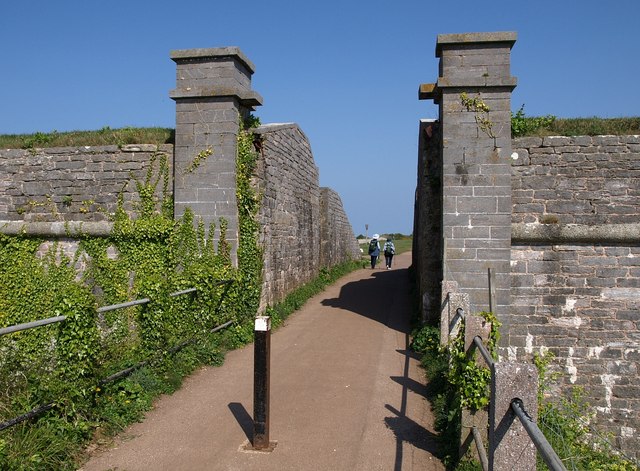 Access to Berry Head is through the remains of the fort, the coastguard lookout
and lighthouse can just be seen in the far distance.


Photo by Derek Harper

this is a closer view of the defences above.
Wildlife and Plants
Berry Head to Sharkham Point is a haven for several nationally rare and threatened species which are dependent upon the thin limestone soils, mild climate and exposed conditions of the headland.
The coastal cliffs here are home to a seabird colony, including Guillemots, Razorbills and Black-legged Kittiwakes. Several rare vagrant birds have occurred here, including a long-staying Gyrfalcon in 1986.
The guillemot colony on the cliffs below the Southern Fort is one of the largest on England's south coast and can be closely watched live on CCTV in the Visitor Centre. Berry Head also acts as an important staging post for migrant birds and is home to a significant number of Cirl Buntings.
The site is one of only two locations in Great Britain at which the white rock-rose, small hare's ear and small restharrow occurs. Spring gentian, honewort, and goldilocks aster are also dependent upon the thin soils, mild climate and exposed conditions of the headland.
Caves at Berry Head are home to the endangered Greater Horseshoe Bat. A small herd of North Devon cattle has been introduced to the headland to produce the cow pats that attract dung beetles on which young bats are particularly dependent for food.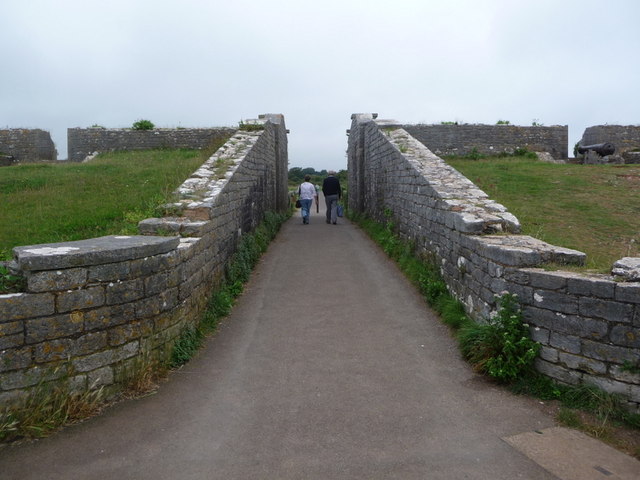 The view on the way back down through the fort

Photo by Chris Downer

---
Lighthouse information Grid

| | |
| --- | --- |
| Name: | Berry Head Lighthouse, Brixham, Devon |
| Current status: | Currently in use |
| Geographic Position: | 50 24.0 N 03 28.9 W |
| Grid Reference: | SX944566 |
| Ceremonial County: | Devon |
| Appearance: | Smallest lighthouse in England, similar in appearance to the top being taken of a tower lighthouse and placed on the floor. |
| Map Link: | |
| Aerial photo: | Marinas.com Multimap Google satellite view |
| Other photos: | |
| Originally built: | 1906 |
| Current lighthouse built: | 1906 |
| Height of Tower: | 5m (15ft) |
| Height of light above mean sea level: | 58m (191ft) |
| Character of light: | White Group Flashing Twice Every 15 Seconds |
| Character of fog signal: | None |
| Range of light: | 14 nautical miles |
| Owned / run by: | Trinity House |
| Getting there: | See map. At the end of Gillard Road in Brixham. |
| Access: | Access to headland is through the old fort, site is open lighthouse is closed. |
| Website: | TH |
| Other Useful Websites: | |
| Routes: | |
| Other Relevant pages: | |
| Notes: | |
Please let us know any other information that we can add to the Grid or page and any errors that you discover. Before making a long trip to any location it is always wise to double check the current information, websites like magazines may be correct at the time the information is written, but things change and it is of course impossible to double check all entries on a regular basis. If you have any good photographs that you feel would improve the illustration of this page then please let us have copies. In referring to this page it is helpful if you quote both the Page Ref and Topic or Section references from the Grid below. To print the planning grid select it then right click and print the selected area.
Please submit information on locations you discover so that this system continues to grow.