Beachy Head Lighthouse

Beachy Head, Eastbourne, Sussex

Location Guide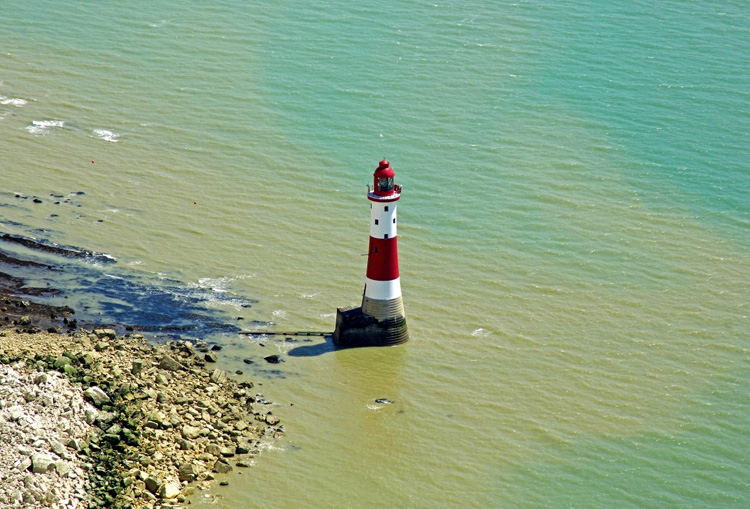 Aerial Photo By Marinas.com

More images are available
An earlier lighthouse existed on the cliff top some way away, this was the Belle Tout Lighthouse,

but it had problems due to being too high and above the mist, and the cliff face concealing it.
The replacement Beachy Head lighthouse we have today was completed in 1902.

It sits 165m in front of the cliff face. It took 2 years to build using 3,660 tons of Cornish Granite.

To get to the construction site a cable car system was developed from the cliff top, that had to transport men and much of the materials. See image on right.

It was automated in June 1983.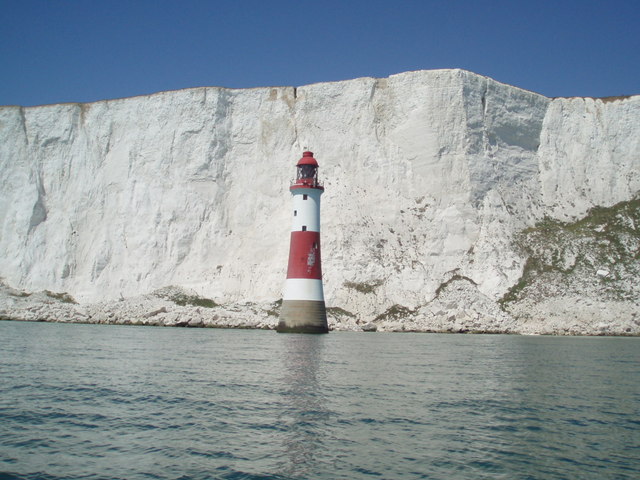 Photo by Paul Gillett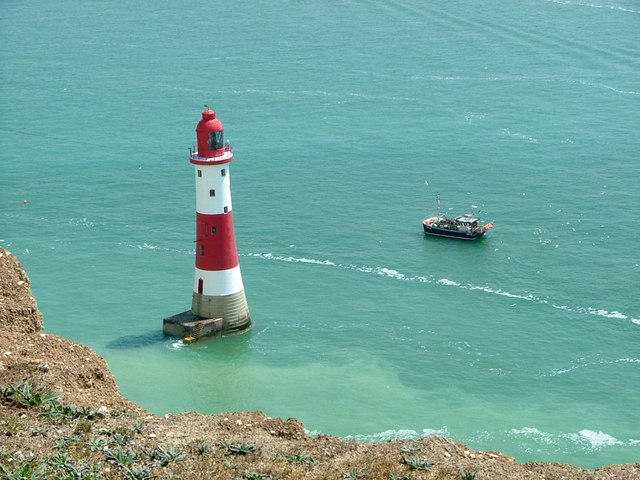 Photo by Nigel Homer

This is one of the few places that you can take aerial photos while standing on the ground, the cliff is 90 metres high. Just remember when looking through your camera, that the next step forward is a big one.
In January 2010 Trinity House proposed to deactivate this light, but following opposition from local boaters it agreed in May to continue the light at reduced power. The fog horn will be discontinued.
---
Lighthouse information Grid

Name:

Beachy Head Lighthouse, Eastbourne, Sussex

Current status:

Currently in use

Geographic Position:

50° 44'.0 N 00° 14'.50 E

Grid Reference:

TV586950

Ceremonial County:

Sussex

Appearance:

Tall white tower with red top and red band around, in front of tall white cliff face.

Tapered round granite tower with lantern and gallery, painted white with a broad red horizontal band, lantern is also red.

Map Link:

Aerial photo:

Marinas.com Multimap Google satellite view

Other photos:

Originally built:

1828

as Belle Tout Lighthouse some way away on top of a high cliff

Current lighthouse built:

1902

Height of Tower:

43m 141ft

Height of light above mean sea level:

31m 102ft

Character of light:

2 white flashes every 20 seconds

Character of fog signal:

6 second blast every 30 seconds - to be discontinued

Range of light:

20 nautical miles - power being reduced soon

Owned / run by:

Trinity House

Getting there:

Located on the beach below the Seven Sisters Cliffs about 5 km (3 mi) southwest of Eastbourne and 2.5 km (1.5 mi) east of the Belle Tout Lighthouse

Access:

Can be seen from cliff top walks

Website:

TH

Other Useful Websites:

Wiki

Routes:
Other Relevant pages:

Notes:

The Belle Tout lighthouse is now a B&B
Please let us know any other information that we can add to the Grid or page and any errors that you discover. Before making a long trip to any location it is always wise to double check the current information, websites like magazines may be correct at the time the information is written, but things change and it is of course impossible to double check all entries on a regular basis. If you have any good photographs that you feel would improve the illustration of this page then please let us have copies. In referring to this page it is helpful if you quote both the Page Ref and Topic or Section references from the Grid below. To print the planning grid select it then right click and print the selected area.
Please submit information on locations you discover so that this system continues to grow.