Bardsey Island Lighthouse

Bardsey Island, Caernarfonshire

Featured Location Guide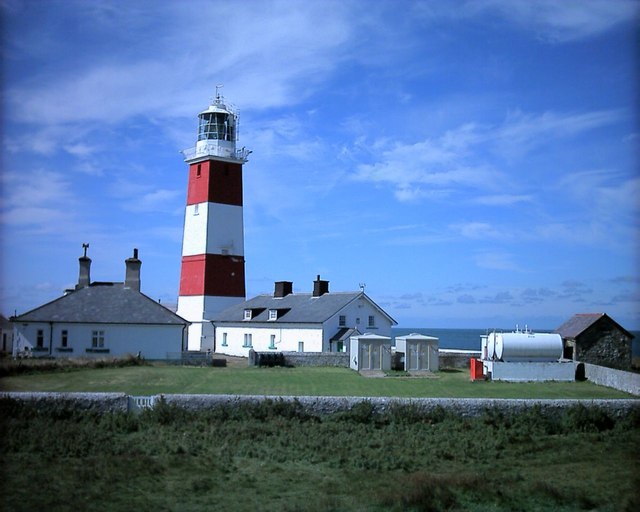 Photo by Alan Fryer

Bardsey Island is separated from the mainland by Bardsey Sound. The island, some 2 miles long by ½ mile wide, is surrounded by outcrops of sharp rocks.
See also our more general guide to this island at Bardsey Island.




Bardsey Lighthouse, stands on the southerly tip of the island and guides vessels passing through St George's Channel and the Irish Sea. It is said to be the only square tower lighthouse maintained by Trinity House.
Application for a light here was first made in 1816 by Lt. Thomas Evans R.N., but several other applications made in 1820 finally resulted in the building of the tower by Trinity House in 1821, at a cost of £5,470 12s 6d plus a further £2,950 16s 7d for the lantern.
Joseph Nelson was the engineer and builder, but the heavy weathered string-course near the base and the blocked and hooded directional light window show the influence of Daniel Alexander, who succeeded Samuel Wyatt as architect to Trinity House, and under whom Nelson served. Joseph Nelson is associated with the design of at least fifteen lighthouses, mostly in the Bristol Channel. The lighthouse is built of ashlar limestone and is unplastered inside and out, but painted in red and white bands on the outside. The Lighthouse tower is 30m (98ft) high and is unusual, amongst Trinity House towers of this period in being square in plan. Unlike many other lighthouses, it retains its original gallery railings, which are of iron and bellied (i.e. curved out in width at their crowns) towards the top. Other examples include Salt Island Lighthouse,

at Holyhead, designed by John Rennie in the same year. Fortunately, the present lantern, fitted in 1856, did not require the removal of the original railings.
The plinth of the tower is 4m (13ft) high and elaborately enriched, and at ground level it forms a square of 7.6m (25ft) reducing to 6.1m (20ft) at the top of the plinth and 4.6m (15ft) at the top of the tower below the crowning cornice, which juts out in a square of 5.5m (18ft). The walls are 1.2m (4ft) thick at the base reducing to under 0.9m (3ft) at the top. Originally, the light comprised of reflectors but changed to a dioptric (refracting) mechanism in 1838, the appearance of the original lantern is not known. The present lantern of 1856 is a 4.27m (14ft) wide chamfered octagon and the light remained fixed, instead of revolving. The present revolving apparatus was installed in 1873 and gives a group of five flashes, originally driven by a vaporizing oil-lamp, but replaced by electric in 1973.
The Lighthouse is unusual in lacking any sort of harbour or quay facilities. As it is on an established migratory route, the tower has many bird casualties and The Royal Society for the Protection of Birds, and Trinity House have tried to help the problem by providing perches on the lantern top and flood-lighting the tower, although this does not seem to have helped.
In 1987 the Lighthouse was converted to automatic operation and up until 1995 was monitored from the Trinity House Area Control Station at Holyhead. It is now monitored from the Trinity House Depot at Harwich, with a local part-time attendant carrying out routine maintenance.
Y Storws, sometimes referred to as The Boathouse, was built a few years before the lighthouse, near to the landing place at Y Cafn.
In the sixth century Bardsey was a refuge for the Celts who sought sanctuary from the bloodthirsty Saxons. Only the ruins of the Abbey of St. Mary remain, but the sanctity of its patron, St Dolmers, who died there in 612 made the Abbey famous all over Britain. The remains of many venerable monks were conveyed to the island to be buried, and acres of graves record tales of pious and laborious lives.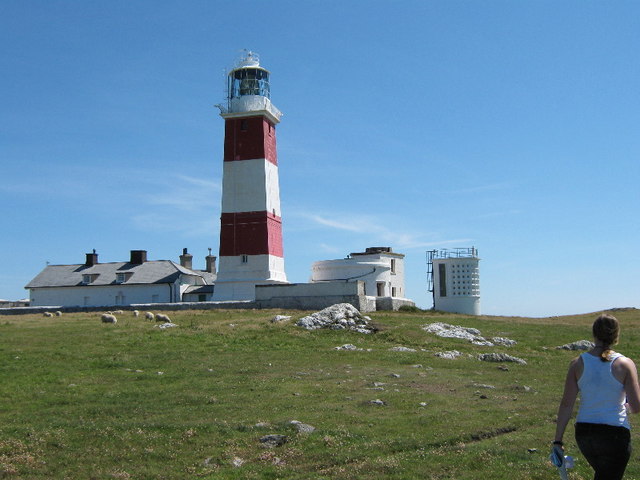 Photo by David Metcalf

Its likely that the odd looking building to the right of the picture is the source of the fog sound.
Visiting
Although the lighthouse is not open there are day trips allowing people to visit the island, leaving from Porth Meudwy, but sometimes from Pwllheli. As a general rule, you will have 3.5 hours to explore the island. Overnight and weekly stays on the island are also available.
We have another location guide on visiting Bardsey Island,




with most visitors going to see the wildlife.
Based on information from Wikipedia, Trinity House, Bardsey Island Trust and our other location guides.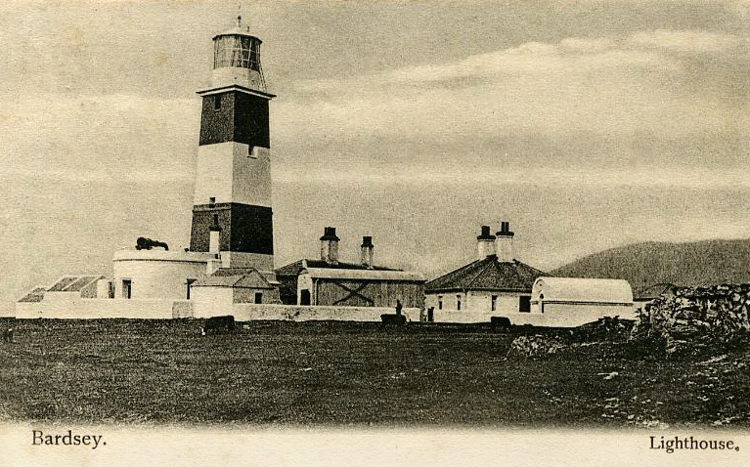 An old postcard of Bardsey Lighthouse, in around 1905, shows that is changed very little
Image from Camera Images GBPictures archive
---
Lighthouse information Grid

Name:

Bardsey Island Lighthouse, Caernarfonshire

Current status:

Currently in use

Geographic Position:

52° 44'.97 N 04° 47'.95 W

Grid Reference:

SH111206

Ceremonial County:

Caernarfonshire

Appearance:

Square tower with two red and two white stripes.

Square masonry tower with lantern and gallery, painted with red and white horizontal bands. Three 1 storey keeper's houses and other buildings.

Map Link:

Aerial photo:

Multimap Google satellite view

Other photos:

Geograph: Photographs of Bardsey Island

Geograph of area

Originally built:

1821

Current lighthouse built:

1821

Height of Tower:

30 metres 98ft

Height of light above mean sea level:

39 metres 129ft

Character of light:

White Flash 5 Times Every 15 Seconds

Character of fog signal:

Nautophone Sounding Twice Every 45 Seconds

Range of light:

26 nautical miles

Owned / run by:

Trinity House

Getting there:

Day trips to island

Access:

Outside can be seen with no difficulty

Website:

TH

Other Useful Websites:

Wiki on island

Bardsey Island Trust

Routes:
Other Relevant pages:

Notes:

We have a second location guide looking more generally at visiting this island at Bardsey Island, North Wales

Several cottages on the island are available for overnight accommodation.
Please let us know any other information that we can add to the Grid or page and any errors that you discover. Before making a long trip to any location it is always wise to double check the current information, websites like magazines may be correct at the time the information is written, but things change and it is of course impossible to double check all entries on a regular basis. If you have any good photographs that you feel would improve the illustration of this page then please let us have copies. In referring to this page it is helpful if you quote both the Page Ref and Topic or Section references from the Grid below. To print the planning grid select it then right click and print the selected area.
Please submit information on locations you discover so that this system continues to grow.