Bamburgh Lighthouse

aka Black Rocks Lighthouse

Near Bamburgh, Northumberland

Location Guide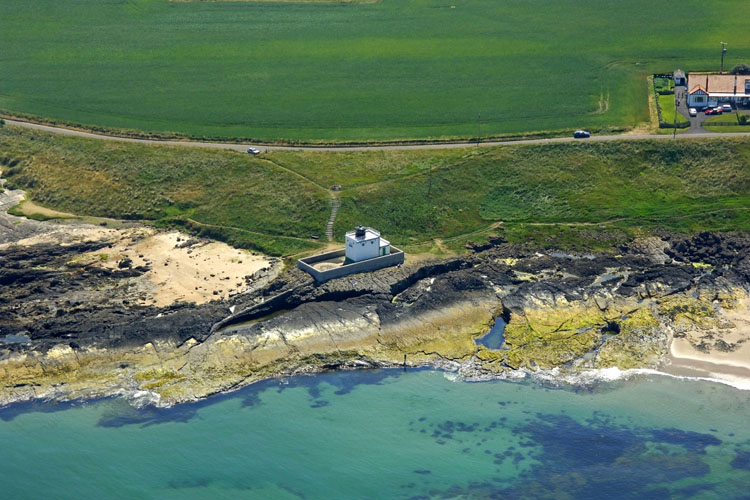 From the air by Marinas.com

, other views are available.
In an area with both turbulent waters and a turbulent history, it's likely that when the castle at Bamburgh was in full use and lit at night it would have acted as a navigation aid during the day and night. The idea of providing some safety precautions appear to have only come about with the castle falling into disuse and poor repair. Only 20 miles from the border Bamburgh Castle was once captured by the Scots and has also been fought over by the Danes and the Kings of Mercia and Northumbria.
By the late 18th century Bamburgh Castle had fallen into disrepair and became a charity school run by a Doctor Sharp.
Doctor Sharp also instituted various measures for the benefit of passing mariners. He set up an elementary lifeboat station in Bamburgh village, operated a warning system of bells and guns from the Castle ramparts, and whilst gales persisted, employed 2 riders to patrol the shore and keep watch for ships in distress.
Eventually a number of lighthouses were built in this area, and Bamburgh Lighthouse was built in 1910. For over 80 years the small unmanned lighthouse at Bamburgh has given a guide to shipping in passage along the coast as well as to vessels in the waters around the Farne Islands.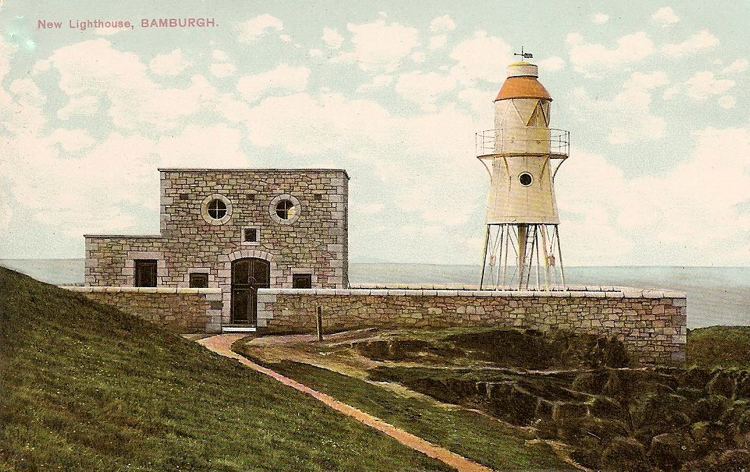 Bamburgh Lighthouse of 1910, notice the space now where the old Lighthouse was
and how the building has been converted to the new lighthouse.
Photo from Camera Images GBPictures archive
Bamburgh Lighthouse was built in 1910 and was a metal structure on metal legs, see old photo above, with a support building by the side, and extensively modernized in 1975, the metal structure taken away and the support structure updated, and a light added to its roof. A similar lighthouse to the original can still be seen in many other locations still working.
The aerial photo above shows the round shape of the ground where the original lighthouse stood.
A local attendant carries out routine maintenance at the station which is monitored from the Trinity House Depot at Harwich. It is the most Northerly land based lighthouse in England.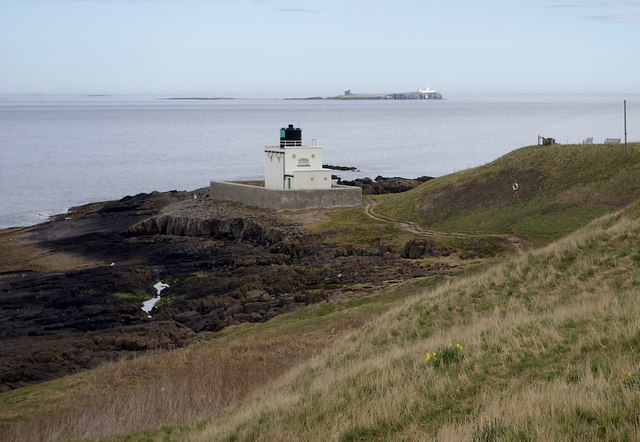 Photo by Phil Champion

The above photograph is from the mainland looking over the Bamburgh Lighthouse on black rocks out to the Farne Islands, the white building on the right island is the Inner Farne Lighthouse.

---
Lighthouse information Grid

| | |
| --- | --- |
| Name: | Bamburgh Lighthouse, Northumberland |
| Current status: | Currently in use |
| Geographic Position: | 55° 36'.97 N 01° 43'.35 W |
| Grid Reference: | NU174359 |
| Ceremonial County: | Northumberland |
| Appearance: | |
| Map Link: | |
| Aerial photo: | Marinas.com (black rocks) Google satellite view |
| Other photos: | |
| Originally built: | 1910 |
| Current lighthouse built: | 1975 |
| Height of Tower: | 9 metres |
| Height of light above mean sea level: | 12.5 metres |
| Character of light: | Occulting White, Red And Green Light Twice Every 15 Seconds |
| Character of fog signal: | |
| Range of light: | White 17 nautical miles; red and green 13 nautical miles |
| Owned / run by: | Trinity House |
| Getting there: | |
| Access: | Site is open building is closed. |
| Website: | TH |
| Other Useful Websites: | |
| Routes: | |
| Other Relevant pages: | |
| Notes: | |
Please let us know any other information that we can add to the Grid or page and any errors that you discover. Before making a long trip to any location it is always wise to double check the current information, websites like magazines may be correct at the time the information is written, but things change and it is of course impossible to double check all entries on a regular basis. If you have any good photographs that you feel would improve the illustration of this page then please let us have copies. In referring to this page it is helpful if you quote both the Page Ref and Topic or Section references from the Grid below. To print the planning grid select it then right click and print the selected area.
Please submit information on locations you discover so that this system continues to grow.