Hardman House

Photographers Studio

Liverpool, Lancashire

Featured Location Guide
Hardman House and Photographers Studio in Liverpool is a time capsule of an era passed by and shows how a renowned portrait and landscape photographer, Edward Chambre Hardman, lived and worked in the 1950's. It is a terraced house in the middle of Rodney Street in Liverpool and if it wasn't for the signs outside you probably wouldn't realize what was contained inside. It's a step back into the past.
Because of its narrow corridors and jam packed rooms access is via guided tours in small groups at allotted time intervals. The guides are very knowledgeable and along with reminiscences of former members of staff they tell you about life as the Hardman's would have lived there and are able to answer any questions you have. The tour lasts about an hour and a half and covers all four floors including the basement.

It was the home and photographic business/studio of Edward Chambre Hardman and his wife Margaret. He lived and worked here for 40 years. It is a mix of a neat organised professional business space, with specific rooms and floors laid out to accommodate customers and the photographic processes of the time and in contrast you also get to see their cluttered and cramped living quarters were they kept everything and changed nothing. There are even unopened tins of food in the kitchen cupboard.

As with a lot of photographers of their day, and to some extent still today, Edward made his living by taking professional studio portraits, but as you walk around the house you will see their love and main passion was for landscape images, from within the UK, abroad and around the streets and docks of Liverpool. Some of their huge collection of photographs is on display in the house, and there is the opportunity to buy copies in the form of prints and postcards from the small shop in the visitor reception area. His wife Margaret was also a gifted photographer in her own right, and there is a room on the top floor dedicated to her and showing some her work. Acknowledged as the brains behind the business, he often said that he 'could not have done it without her'.
A little History
Chambre was born in Dublin in 1898 and took his first photographs aged nine. At 18 he spent four years in the Gurkha Rifles in India getting to the rank of Lieutenant, and while on active duty he found time for photography using his Eastman Kodak No. 3 special camera and processed his rolls of film in his bathroom. During this time he met Captain Kenneth Burrell and they became friends. Looking for a profession beyond their Army career, they established the photography business in Liverpool in the early 1920s. Originally they acquired a property in 51a Bold Street, Liverpool, at that time this was the fashionable commercial centre. Business was slow to start but eventually it gained a reputation for being the place for anyone with distinction to be photographed with them. In 1926 he appointed 17 year old Margaret Mills as his assistant but by 1929 she left to train as a photographer in Paisley, Scotland but kept in touch with Hardman. In that same year Kenneth Burrell also left and left the business entirely to Hardman but they remained friends and the business name Burrell & Hardman remained.
While Margaret was away they remained in contact via letters and from these we are able to put a potted history together of their life together. In 1930 just after they had started to discuss setting up a portrait business together, Margaret announced she was to marry someone else, Hardman was initially devastated but persisted and by 1931 Margaret had broken off the engagement and they married in 1932, he was 33 and she was 23. They rented a flat at 59 Hope Street, Liverpool. In that same year he earned a contract with the Liverpool Playhouse theatre providing portraits and production shots of actors. Some of the actors photographed included Ivor Novello, Patricia Routledge and Robert Donat. They worked long hours at the studio but still found time for weekend expeditions, strapping camera equipment on to their bicycles and riding out into the countryside to shoot landscapes. The 1930s was a prolific period for his landscape photography. He was elected a fellow of the Royal Photographic Society and took many landscape photographs in Scotland, as well as a portrait of Margot Fonteyn.
In 1938 Hardman took over the lease of a second portrait studio based in Chester. During the Second World War years business seemed to thrive, although because of this Hardman's landscape photography suffered as he had no time. The business thrived because of the number of men going abroad wanting to have a picture of their family or loved one to take with them, or to leave a picture of themselves with their family.
In 1941 they moved to Barnston on the Wirral where they stayed for seven years until the studio lease expired. It was then, in 1947 that they moved to 59 Rodney Street. This became their new studio and also their home for the rest of their lives.

By 1953 however it seemed the business was in uncertain times as there's evidence showing Hardman applying for other jobs including, work at the Bluecoat Society of Arts and Kodak. In the same year, his friend Kenneth Burrell died aged 60. In 1958 Hardman suffered the loss of his mother and the lease on the Chester studio also ended. He officially retired in 1965/6 as the fashion for formal portraits declined, but he did continue to do some small commissions and continued with some landscape photography.

In 1969 Margaret took the well known photograph of Chambré Hardman behind the Rollerflex in his collar, tie and trilby. The following year Margaret died, he not only lost his wife, but his business partner, photographic companion and a very skilful darkroom painter. Following her death Hardman declined and came to the attention of Liverpool's social services department. He became a recluse and worked less as time went by. He did however, continue to send exhibition prints to the London Salon, from where previously he had won several awards. In March 1975, an exhibition of Hardman's work titled 'Fifty Years of Photography' was displayed at the University of Liverpool. A year later Lancashire Life magazine did a feature article and profile of of him.
By 1979 Hardman made few excursions out of his home and found increasing difficulty in walking, and had suffered a fall. At this point he had not thought of dying and had made no provision for his lifetimes work except having handed over 140,000 documents including negatives from 1925 to Liverpool Central Library local history archive. It was suggested that he should set up a trust to safeguard his work and subsequently bequeathed the bulk of his estate to the Trust.
Throughout the 1980s, exhibitions and articles of Hardman's work continued to be presented while he suffered long stays in hospital. He was also made an honorary fellow of the Royal Photographic Society.
He died on the 2nd April 1988 at Sefton General Hospital in Liverpool. His house and studio was taken over by the E. Chambre Hardman Trust in order to conserve his work and was later transferred to the National Trust, the current custodians.
The House/Studio Today
Whilst Hardman continued to live and work in the house after his wife had passed away very little changed inside since the 1950's when they had been in full operation there. So today a visit to the house takes you back to how it was in the 1950's.

Your visit starts in the visitor reception area at the back of the property off Pilgrim Street. Here you are collected together in a small group of 10 and a tour guide takes you from here around to the front of the property in Rodney Street, where you first enter the 'client waiting room' as it would have been for portrait clients arriving to have the photo taken.

Because of the size of the house and the fact there are a number of small groups going around at the same time in segmented intervals, there are also 'waiting rooms' around the house for you to wait in until the next room of significance is vacated, its a very efficient system and gets away from having to pass on the stairs. The first of these waiting rooms on the ground floor is behind the client waiting room and is where you watch a short video on the house, it's occupants and Liverpool in the 50's.

From here you proceed up the stairs to the 1st floor to visit the main studio room.

The Front Entrance
If the main studio room is occupied then you wait in another small room where on the ways there are copies of Hardman's work, on our visit it was a number of images of the streets and dock areas of Liverpool in the 1950's as well as a display cabinet with cameras on the top.

The studio room is a large double fronted room at the front of the property. It is laid out as a photographic portrait studio with black curtains on the windows pulled to allow you to see it as it would have been if you were having your photo taken. The area by the windows has on display the main camera, a very large plate camera with extending bellows on a wooden frame that can be height adjusted, used for taking portraits, various different lighting arrangements. Along the opposite wall is the area where the portrait clients would have sat or stood, there is a background hanging on the wall and in front a raised platform arrangement with chair and different cloths used in setting up the photo, there are also props including those for keeping children amused. Being a Georgian building the room was very large and had high ceilings so ideally suited as a photo studio.
The Studio showing the lighting and camera kit used
There are other rooms on this floor at the back of the property, but first we go upstairs to the 2nd floor.
Again there is another waiting room with more photos and display cabinets and then it's into the room at the front of the house where they have an exhibition entirely dedicated to Margaret. In here to get to see some of the many letters she wrote to Hardman whilst they were apart, some of the clothes and jewellery she would have worn, some personal photos of her and Hardman whilst out on their travels or landscape photography trips as well as some of Margaret's own photographic work. From here you are then led into another room which is completely set up as a darkroom and are told this was their private darkroom. In here you have packets of photographic film and paper, an enlarger, a developing bath system as well as loads of other items, so much crammed into such a small place. From here its back down the stairs to the first floor and the living quarters at the back of the property.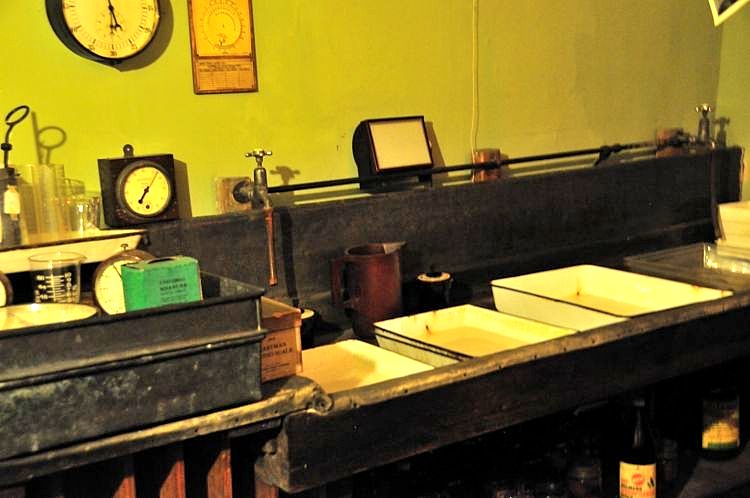 The Darkroom
The living quarters are cramped and a small part of the house, the first small room on the right is the bathroom/toilet, and ahead of you, you enter the kitchen. The kitchen is small with a small table in the middle, they never threw anything away and this is shown in their kitchen larder there are still tins of food from the 1940's/50's, including their wartime rations which still have their original contents. On through here there is a small sitting room with comfy chairs, magazines from the period, books and loads of stuff. Moving on through into the bedroom which has a wardrobe, a double bed and a further door in the distance. This door takes you onto an outside decking area with views over the small garden. You wander back through these rooms to get to the stairs to take you back down on the ground floor to see some of the other work rooms.

The photo on the right shows the back and garden of the property. The white structure is the 'decking area' which comes off the bedroom. You get to see this view when you leave and head back towards the visitor reception/shop that you arrived at first before starting your tour.
Continuing our walk around the house you arrive back on the ground floor and at the back of the property there are further collection of rooms known as the 'finishing rooms', where employees would have tidied up, retouched, and some hand colouring, where the clients requested it, and in the mounting room they would have mounted the photos ready for clients. They prided themselves on the quality of the images they sent out being able to eliminate flaws and blemishes, this was achieved both by retouching the original negative, using a fine lead pencil, but also after printing had taken place. On work tables you can see tools, print boxes, examples of what types of work would have been carried out here and more.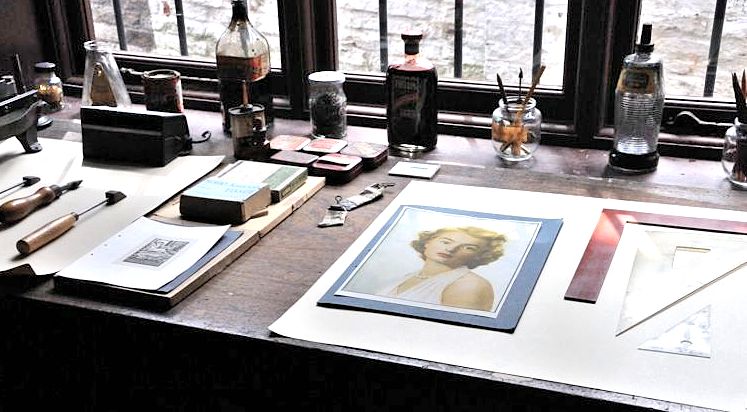 One of the finishing rooms
From here you are encouraged to take a look at the small telephone/intercom room, which you passed, and from there take the narrow steps down into the basement before making your way back to the exit door off the 'finishing room' out into the garden. In the basement there were a number of rooms included a darkroom where the portrait film was developed and printed for the finishing room upstairs to put their final touches.
Once you have seen enough of the basement you then return to the 'finishing room' to exit the building and make your way through the garden back to the visitors reception area where you started. Here there is a small shop where you can purchase copies of some of Hardman's photos as prints or postcards and some other small gift items.
I enjoyed my visit, it was really interesting to see a 'living museum' of a photographic studio from this time. Hopefully with the custodianship of the National Trust it will be kept as a reminder to a photographic past as with the rise of digital photography the new generations of photographers will not experience or probably even be aware of how photography used to be. It's a time capsule for future generations.
| | |
| --- | --- |
| | |
| One of the Enlargers on display in the Darkroom | Information for clients outlining their policy of using little makeup, but that they will remove blemishes afterwards. |
On your visit some of the items in display cabinets and any photographs in the waiting rooms may differ as they try to show different aspects of the Hardman's time here. As it appears they did not throw anything away there is a lot of material that is not routinely on show, so can be used for special exhibitions. For example in May 2011 they ran an event 'Hardman's and the Home Front', where amongst other items they displayed an appointment card that informed clients that 'due to the war, credit will no longer be given.' As photography was a reserved occupation, Hardman spent most of his time taking pictures of servicemen and women, but when he wasn't taking photos he was an ARP Warden, so his ARP helmet and Gas mask were also on display together with their 'dismantled Anderson shelter'. For 2012 there exhibition is about rationing and make do and mend.
The photographic archive that Hardman and Margaret left behind contains hundreds of thousands of photographs, prints, negatives, letters and business records. Around 140,000 photographs from 1925 are with the archives of Liverpool Central Library.

This includes around 12,000 photographs.
Chambre Hardman Archive

There are 2,000 images from the Chambre Hardman Collection on this site, mainly those taken by Hardman, but also a small selection of those taken by Margaret.
You can also see a selection of around 1200 photos from the Hardman collection, and if you want purchase, from the National Trust Print website at www.ntprints.com,

take the link for Chambre Hardman.
---
NOTE: Access to the house/studio is via guided tours in small groups to allow everyone to get a chance to see and to keep things flowing. You do not need to book before your visit, but I would suggest you do if you want to make sure you can get in on the date you want. If you should arrive in Liverpool earlier than your allotted time slot for your tour then Liverpool's Anglican Cathedral is nearby and it's worth a stroll over there to have a look around.
---
Further information Grid

| | |
| --- | --- |
| Location: | The Hardman House and Photographers Studio, Liverpool |
| Ceremonial County: | Lancashire |
| Grid Reference: | SJ355895 |
| Map Link: | |
| Aerial photo: | |
| Route(s): | |
| Best Times to Visit: | |
| E-mail: | 59rodneystreet@nationaltrust.org.uk |
| Website: | www.nationaltrust.org.uk/hardmans-house |
| Other useful websites: | |
| Nearby Locations: | Liverpool Cathedral |
| Other Relevant pages: | |
.
---
Planning Grid

Location:

The Hardman House and Photographers Studio, Liverpool

Grid Reference:

SJ355895

Getting there:

From the M62 taken the A508 into the city centre following the signs for Liverpool Anglican Cathedral. Once on foot follow tourist the signs for 59 Rodney Street.

Access:

Via reception in Pilgrim Street and your guide takes you to the front of the property in Rodney Street to gain access to the house and studio.

Parking:

There is no on site parking, but plenty of on street parking in the surrounding streets. There is disabled parking in Pilgrim Street behind.

Facilities:

Toilets and a small shop selling Hardman Prints and postcards in the visitor reception off Pilgrim Street.

Things To Do, See and Photograph:

What to take:

Nature highlights:

Address:

59 Rodney Street

Liverpool

Postcode:

L1 9EX

Telephone:

0151 709 6261

Opening times:

Varies, see the National Trust page, and put in the date of interest. As this is a small place, access is controlled by timed tickets that you can book in advance by phone or email. Tickets on the day are subject to availability. Open BH Mondays.

See www.nationaltrust.org.uk/hardmans-house/opening-times/

Charges:

Adult: £6; Child: £2.95; Family: £14.97

Photo Restrictions:

No flash photography in the house. No Tripods.

Other Restrictions:
Guided tours
Special Needs Access:
Special Needs Facilities:
Disabled toilets in the visitor reception area.
Children Facilities:
Pushchairs have ground floor access only. Hip carrying infant seats for loan. Children's quiz/trail and special family days.
Dogs Allowed:
Please let us know any other information that we can add to the Further information and Planning Grids or page and any errors that you discover. Before making a long trip to any location it is always wise to double check the current information, websites like magazines may be correct at the time the information is written, but things change and it is of course impossible to double check all entries on a regular basis. If you have any good photographs that you feel would improve the illustration of this page then please let us have copies. In referring to this page it is helpful if you quote both the Page Ref and Topic or Section references from the Grid below. To print the planning grid select it then right click and print the selected area.
Please submit information on locations you discover so that this system continues to grow.