Burghley House

Stamford, Lincs

Location Guide
Burghley House sits in 300 acres of deer park, home to a large herd of Fallow Deer which was established here in the 16th century. It is also home to the annual Burghley Horse Trials, a four day equestrian event.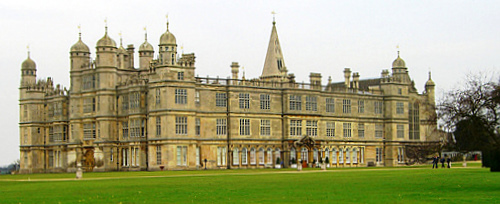 It is a grand 16th-century English country house near the town of Stamford and its park was laid out by Capability Brown. The Lincolnshire county boundary crosses between the town and the house which is located in the City of Peterborough unitary authority, Cambridgeshire.

Burghley was built for Sir William Cecil, later 1st Baron Burghley, who was Lord High Treasurer to Queen Elizabeth I, between 1555 and 1587 and modelled on the privy lodgings of Richmond Palace. It was subsequently the residence of his descendants, the Earls and Marquesses of Exeter, and is now owned by a charitable trust established by the family.

Within the house there are 35 major rooms on the ground and first floors of which there is a suite of rooms remodelled in the baroque style. There are also more than 80 lesser rooms and numerous halls, corridors, bathrooms and service areas. Although the house was built in the letter 'E' shape, in honour of Queen Elizabeth, it is now missing its north-west wing which was demolished and along with the south front roof line raised to allow better views of the new parkland being designed under the guidance of "Capability" Brown.

The avenues in the park were all laid out by Capability Brown, paying due respect to pre-existing plantings, some of which were from the 16th century or earlier. Brown also created the park's man made lake in 1775–80. He discovered a seam of waterproof "blue" clay on the grounds, and was able to enlarge the original 9 acre pond to the current 26 acre lake. Its clever design gives the impression of looking at a meandering river. Brown also designed the Lion Bridge, originally, Coade-stone lions were used as ornamentation but these perished, and the existing stone examples, made by local mason Herbert Gilbert, have been in place since 1844.

Click on small images to see larger versions
Today the visitor can see:
Within the house a set of state rooms within the house which includes; the kitchen, the blue silk bedroom and dressing room, the George rooms and the Heaven Room and Hall staircase.
Within the grounds and gardens you can see a lake, large herd of fallow deer and The Garden of Surprises which is hidden inside a Yew hedge is an experience that will delight the senses. It incorporates a contemporary sculpture garden with specimen trees and shrubs, and the Elizabethan Garden which is over an acre of yew mazes, revolving Caesar's heads and spurting fountains, within here mirrors exaggerate, mazes confuse, squirts of water distract, the dank moss house captivates, transforming sculptures dazzle, the grotto entices and the longitude dial educates. Fifteen acres of reclaimed scrub woodland has been planted and contains mown paths and a lakeside walk.

The lakeside walk you may see and hear some of the resident water fowl which include, Barnacle and Canada Geese, Heron, Mallard, Mandarin Duck, Pochard, Grebe, Coots and Swans. The lake it gives an impression of a meandering river across which is the Lion Bridge with its bridge gates and 'dog door' which allows hounds to get through from either direction at speed. Walking away from the bridge following the tarmac road will take you through the area used by the Horse Trials and at the junction of the drives is where you may glimpse the resident fallow deer, the fawns are born in June/July.

They also open up their private gardens in April for the display of spring bulbs.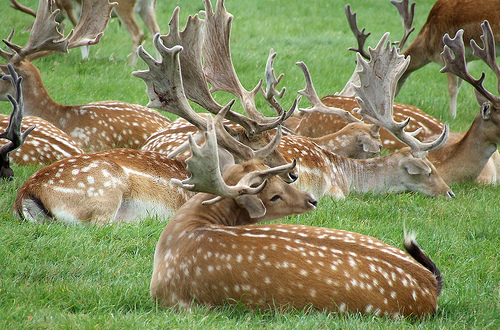 Fallow Deer in the Deer Park
Linda Kenney

---
.
---
Planning Grid

Location:

Burghley House, Stamford, Lincs

Grid Reference:

TF048062

Getting there:

North of Peterborough on the A1. At the Stamford roundabout turn right towards Stamford, go past the impressive Bottle lodges entrance gates, just past the A43 on left, turn right after the Bull & Swan Pub, continue for 1 mile to the visitors entrance.

Access:

Parking:

Free car parking on site

Facilities:

Toilets, restaurant, tearoom

Things To Do, See and Photograph:

Fallow Deer, gardens, sculptures, landscapes of the grounds

What to take:

Nature highlights:

Fallow Deer, rut in October, new fawns in June/July; waterfowl on the lake; spring bulbs in the private gardens

Address:

The House Office
Burghley House
Stamford
Lincolnshire

Postcode:

PE9 3JY

Telephone:

01780 752451

Opening times:

House: 17 Mar-28 Oct, Sun-Thurs 11am-5pm (last entry 4.30pm)
Gardens of Surprise: 17 Mar-28 Oct, Daily 11am-5pm

Charges:

House & Gardens: Adults £13.80; Child (3-15) £7.00; Seniors/Students £12.50; Family (2+2) £36.50;
Gardens Only: Adult £8.00; Child (3-15) £5.30;
Family (2+2) £26.00; Seniors/Students £6.80

Seasons tickets to house and gardens also available.

Photo Restrictions:

No photography in house

Other Restrictions:
Special Needs Access:
Chair lift to Orangery Restaurant, house tour has 2 staircases one with lift.
Special Needs Facilities:
Disabled toilet available.
Children Facilities:
Dogs Allowed:
Not allowed in house. Allowed in park on leads.
Please let us know any other information that we can add to the Further information and Planning Grids or page and any errors that you discover. Before making a long trip to any location it is always wise to double check the current information, websites like magazines may be correct at the time the information is written, but things change and it is of course impossible to double check all entries on a regular basis. If you have any good photographs that you feel would improve the illustration of this page then please let us have copies. In referring to this page it is helpful if you quote both the Page Ref and Topic or Section references from the Grid below. To print the planning grid select it then right click and print the selected area.
Please submit information on locations you discover so that this system continues to grow.