Barbury Castle

near Wroughton and Chiseldon, Wiltshire

Location Guide

Photo By Martyn Pattison


Barbury Castle is a large earthworks hill fort that sits on the edge of the Marlborough Downs overlooking the Ridgeway Path, National Trail. Today most know it as a pleasant place to visit with exceptional views, but it also has a place of note in history as a place that was involved in the establishment of Wessex. In the 6th century the Battle of Beranburgh, between the Saxons and the Romano-British, established the Saxon Kingdom of Wessex following the Briton's defeat at Barbury.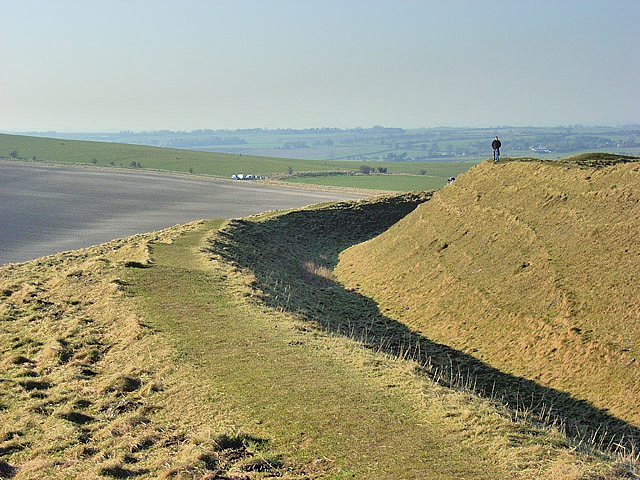 Photo by Andrew Smith


Although not as impressive as Cadbury Castle, South Cadbury in Somerset

and some of the other major hill forts it is still well worth a visit. It occupies 11 acres and consists of double ramparts, a ditch and two entrances, with the west entrance leading directly onto the Ridgeway. Archaeological investigations at Barbury have revealed evidence of a number of buildings, indicating a village or military garrison. The hill fort was in use during the Roman occupation, through into Saxon times. Weapons and tools have been unearthed, and even evidence of chariots have been discovered.
One of the entrances crosses the ramparts.

Picture by Brian Robert Marshall

The ditches now are at times covered with wild flowers.

Public Domain image - Wikipedia
Click on any of the smaller images to see larger versions
It is now a part of a country park, with a number of events and attractions. It was not a great distance from where I grew up and we always knew it as a particularly good place to fly kites.
One of the best explanations and photos of many parts can be found at pegasusarchive.

In more recent years it has hit the headlines a number of times associated with crop markings, that some say are produced by aliens, but others feel they are produced by people for some unknown reason. You can read more about these by clicking here.

Iron Age Roundhouse: a reconstructed roundhouse was built in 2006, to show the style of house thought to have been on this site, but it burned down in October 2008.
Construction of the roundhouse - Edited copy of a public domain photo on Wikipedia

---
Location: Barbury Castle, nr Wroghton, Swindon, Wiltshire

Grid Reference: SU149762
Ceremonial County: Wiltshire

Map Link: Multimap

Aerial photo: Multimap good Google good

Getting there: Barbury Castle Country Park lies south-west of Chiseldon. From M4 Junction 15, follow the A346 towards Marlborough until you see signs for 'Chiseldon'. Then follow the signs for 'Barbury Castle'. Free parking at the country park.

Access: via a footpath from either the Ridgeway Path or from the country park car park.
Website: Swindon Borough Council

Other Useful Websites: Wikipedia Megalist English Nature BBC

Email:
Address:
Postcode:
Telephone:
Opening Times: Open all year round

Charges: None

Nearby Locations: Hackpen White Horse
Other Location Pages: Ridgeway Path
Other Relevant Pages:

Notes:
Please let us know any other information that we can add to the Grid(s) or page and any errors that you discover. Before making a long trip to any location it is always wise to double check the current information, websites like magazines may be correct at the time the information is written, but things change and it is of course impossible to double check all entries on a regular basis. If you have any good photographs that you feel would improve the illustration of this page then please let us have copies. In referring to this page it is helpful if you quote both the Page Ref and Topic or Section references from the Grid below. To print the planning grid select it then right click and print the selected area.
Please submit information on locations you discover so that this system continues to grow.