Criccieth Castle

Criccieth, Caernarfonshire

Featured Location Guide
This castle sits on the top of a headland between two beaches overlooking the sea, Tremadog Bay, and it's most prominent feature is the twin-towered gatehouse built by Prince Llywelyn ab Lorwerth.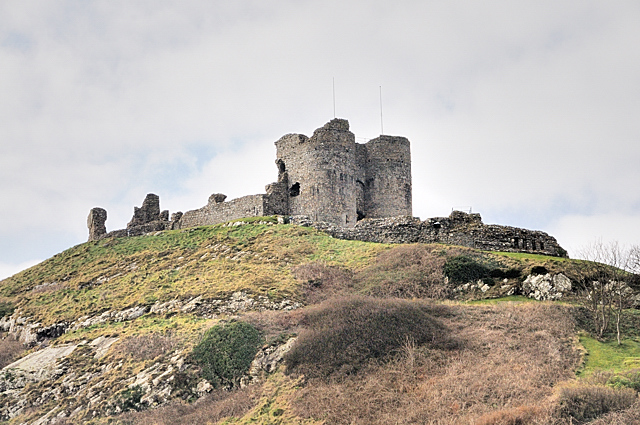 History

Construction began in the early 13th Century by Prince Llywelyn ab Lorwerth and later continued by his grandson Prince of Wales. Today it's most prominent and an unusual feature for a Welsh Castle is its twin-towered gatehouse which is believed to have been built between 1230 and 1240. It was a focal point in the war between England Wales and eventually it was capture by Edward I of England during his second campaign in 1283. His army rebuilt it, including adding another tower to the wall of the inner ward and strengthening the "Engine Tower" (now in ruins), which served as a foundation for a siege engine. In the uprising against the English in 1294, along with Harlech Castle and Aberystwyth Castle it was besiged by the Welsh. It was used as a prison until 1404 when Owain Glyndŵr captured the castle, tearing down its walls and setting it afire, some of its walls still show the scorch marks.

It has also been used by J.M.W Turner in a series of paintings depicting shipwrecked mariners.

Today it is looked after by CADW and in the visitor centre there is an exhibition with information about Welsh castles.

Today's Visitor Sees

Today the great gatehouse is the most impressive part for its size and towering presence on the hilltop. As you approach the village of Criccieth you can see it and it stays with you all the way to parking the car.
For viewing you get to see the impressive twin-towered gatehouse. Like other gatehouses, it was protected with arrowslits and battlements, and the passage contained a portcullis and barred gate, and murder holes which opened down on the passageway from above, ready to spew forth liquids or missiles on some unsuspecting victim. Nothing much remains of the interior rooms of the gate towers, except the shells of guardrooms on the lowest level and large residential quarters on the two upper floors. The discovery of a 13th century crucifix inside one of the upper storey rooms has led to speculation that a chapel may have filled one of the chambers.
The walls and towers of the castle are mostly in ruins and from the top you get some stunning views of the surrounding coastline and can see why it's strategic position was chosen, using the natural defences of the sea but also allowing supplies to be brought in.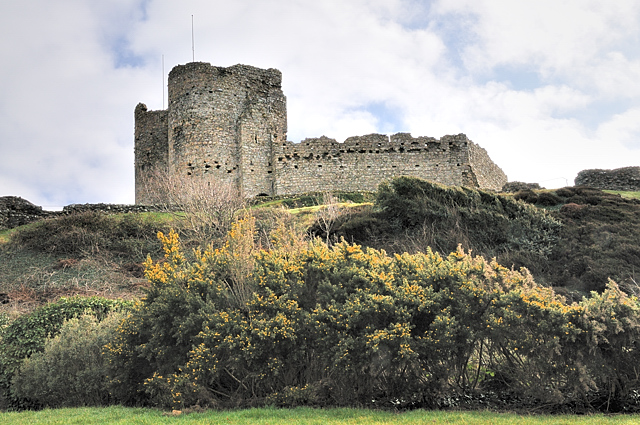 A view from Castle Street
It is also a spectacular castle to photograph from the beach, the day we visited there was a sea mist, which kept changing position and eventually it moved away completely allowing differing views of the castle to be taken. It is certainly a dominant feature of this village, which also has a small number of shops and eateries and plenty of B&B accommodation. The beaches are a mixture of sand and pebbles and is vast. Opposite there is a large green open space with picnic tables and a public toilet block which in fact was shut when we visited at the end of February, but is probably open during the busier summer months.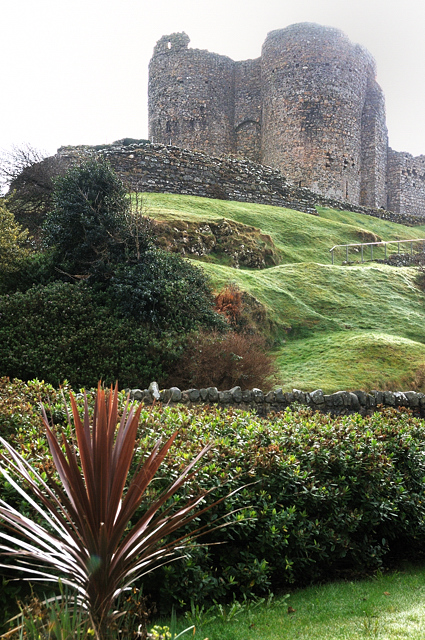 A view from Castle Street
---
.
---
Planning Grid

Location:

Criccieth Castle, Caernarfonshire

Grid Reference:

SH500377

Getting there:

From A487 take the B4411 to Criccieth, over the A497 towards the sea front, following the road onto the sea front where you will come to the seafront car parking.

Access:

From car park, walk up hill to castle entrance, then further up hill from visitor entrance to castle.

Parking:

On street parking both in the road outside the castle entrance as well as down in the village on the sea front Pay & Display 110yrds away.

Facilities:

Toilets, site exhibition and audio-visual presentation

Things To Do, See and Photograph:

Castle, beaches, boats, seascapes and clouds if the right weather conditions. Quaint buildings.

What to take:

mixture of lenses, polarizer or grads

Nature highlights:

Address:

Castle Street

Cricieth

Gwynedd

Postcode:

LL55 0DP

Telephone:

01766 522227

Opening times:

Nov-Mar Fri & Sat 9.30am-4pm, Sun 11am-4pm.
Apr-Oct Daily 10am-5pm

Open site all other times - unstaffed with no admission charge 10am-4pm

Charges:

Adult £3; Concession £2.60; Family £8.60

Welsh Residents Pass for the 60+ or 16 and under living in Wales gives free access to all CADW sites. See Here for Details.

English Heritage Members FREE (2 yrs +) 50% first year of membership.

Photo Restrictions:

None

Other Restrictions:
Special Needs Access:
Ramp into reception and exhibition area on ground floor. Steps to exhibition and viewpoint can be avoided using a side door - ask staff member for assistance. Steep path leads up to castle.
Special Needs Facilities:
RADAR key toilet on site. Dropping off point by entrance.
Children Facilities:
None specific - although the beach of course is a great playground
Dogs Allowed:
only assistance dogs around the castle site
Please let us know any other information that we can add to the Further information and Planning Grids or page and any errors that you discover. Before making a long trip to any location it is always wise to double check the current information, websites like magazines may be correct at the time the information is written, but things change and it is of course impossible to double check all entries on a regular basis. If you have any good photographs that you feel would improve the illustration of this page then please let us have copies. In referring to this page it is helpful if you quote both the Page Ref and Classification from the Grids above. To print the planning grid select it then right click and print the selected area.
Please submit information on locations you discover so that this system continues to grow.