Chirk Castle

Chirk, Denbighshire

Featured Location Guide
Chirk Castle was built in 1295 by Roger Mortimer, 1st Earl of March as part of King Edward I's chain of fortresses across North Wales. It sits on a hilltop with views over the valley below. It was completed in 1310, and is the last Welsh castle, from the reign of Edward I, still lived in today. It was the administrative centre for the Marcher Lordship of Chirkland.
The Castle
It is a late 13th century stone quadrangular fortress, with a curtain wall and simple arched gateway flanked by drum towers. It has three central towers. In 1595 the castle was bought by Thomas Myddelton for £5,000. His son, Thomas Myddelton of Chirk Castle was a Parliamentarian during the English Civil War, but became a Royalist during the Cheshire Rising of 1659. Following the Restoration, his son became Sir Thomas Myddelton, 1st Baronet of Chirk Castle.
During the 1930s the Castle was home to Thomas Scott-Ellis, 8th Baron Howard de Walden, a prominent patron of the arts and champion of Welsh culture. The Myddelton family resided at Chirk Castle until 2004. Lieutenant-Colonel Ririd Myddleton was an extra equerry to Queen Elizabeth II from 1952 until his death in 1988. It is now in the care of the National Trust but the Myddleton family still own and work much of the estate.
Features from its 700 years include:
a 14th-century medieval tower and dungeon, known as Adam's Tower. The dungeon is on two levels and a number of upper rooms showing the 5m thick walls, two of which contain 'murder holes' through which material could be poured on to anyone trying to batter or burn down the doors below.

17th-century Long Gallery

18th-century servants' hall

18th-century grand state apartments, with elaborate plasterwork, Adam-style furniture, tapestries and portraits

20th-century laundry
The Gardens
Within the gardens there clipped topiary yews, herbaceous borders and a shrub garden, with many rare varieties. Also
a thatched 'Hawk House' and rock garden

A terrace with stunning views looks over the Cheshire and Shropshire plains

a classical pavilion

17th-century lime tree avenue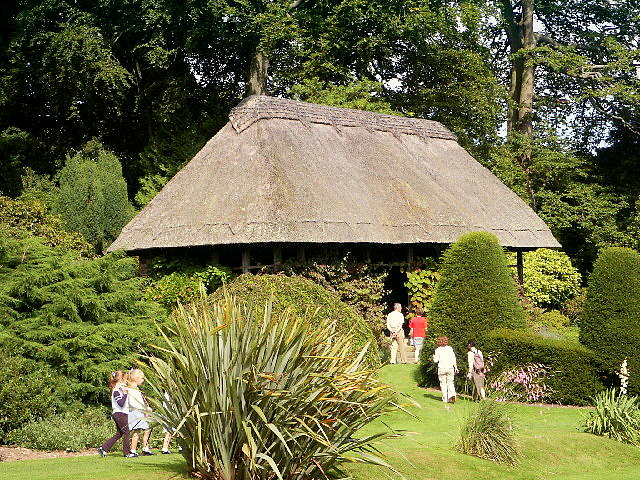 The Hawk House

H Heasley

The Parkland
The 18th-century parkland provides a habitat for rare invertebrates and contains many mature trees and also some splendid wrought-iron gates, made in 1719 by the Davies brothers. The gates, which has the coat-of-arms of the Myddleton family, originally stood a little way in front of the main castle gate but was moved to its present position in 1770 during landscaping of the park.
Snowdrop Weekends - it opens early spring for these special weekends
Circular 1.25 mile woodland walk through the medieval hunting park, with ancient trees and wild flowers
Stunning location with views over nine counties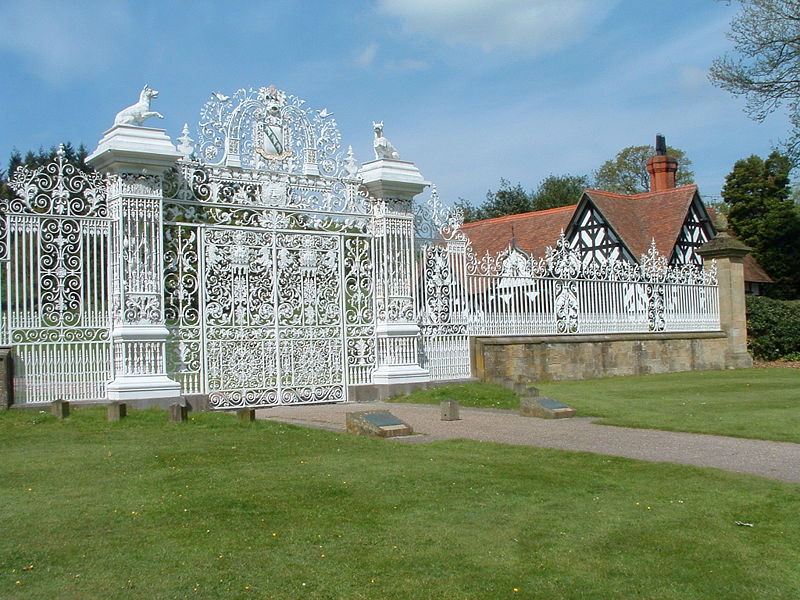 Chirk Castle Gates

Jordi Roque

---
.
---
Planning Grid

Location:

Chirk Castle, nr Wrexham, Denbighshire

Grid Reference:

SJ268380

Getting there:

1 mile off A5, 2 miles west of Chirk village. Signposted off A483.

Access:

Parking:

Free parking, 50 yrds to visitor centre, 200 yrds to castle and garden

Facilities:

Mini tea room at castle. Tea room and kiosk at Home Farm visitor cetnre.

Things To Do, See and Photograph:

What to take:

Nature highlights:

Address:

Chirk Castle

Chirk

Wrexham

Postcode:

LL14 5AF

Telephone:

01691 777701

Opening times:

Free to NT Members.
Garden, Tower and Estate.
Mar-June Wed-Sun 10am-5pm;
Jul-Oct Daily 10am-5pm; 5 Nov-18 Dec Sat & Sun 10am-4pm

State Rooms
(guided tours 11am-12noon, free flow 12noon to closing)
Mar-Jun Wed-Sun 11am-5pm; Jul-Oct Daily 11am-5pm

Charges:

Full Castle: Adult £9; Child £4.50; Family £22.50
Garden & Tower: Adult £6.48; Child £3.24; Family £16.20

Free to NT members

Photo Restrictions:

National Trust property who have restrictions on commercial photography.

Other Restrictions:
One wheelchair user at any one time on first floor.
Special Needs Access:
Short steep hill from visitor centre to castle & gardens. 7 steps to entrance. Many stairs with handrail
Special Needs Facilities:
Toilets at visitor reception and castle courtyard. Stair lift available
Children Facilities:
Baby changing facilities; family activity rooms; play area; giant family games in garden; children's quiz/trail and tracker packs for woodland walk.
Dogs Allowed:
On leads only in car park and on estate walks
Please let us know any other information that we can add to the Further information and Planning Grids or page and any errors that you discover. Before making a long trip to any location it is always wise to double check the current information, websites like magazines may be correct at the time the information is written, but things change and it is of course impossible to double check all entries on a regular basis. If you have any good photographs that you feel would improve the illustration of this page then please let us have copies. In referring to this page it is helpful if you quote both the Page Ref and Classification from the Grids above. To print the planning grid select it then right click and print the selected area.
Please submit information on locations you discover so that this system continues to grow.