York Minster

York, Yorkshire

Location Guide
York Minster is a Gothic cathedral and is the largest of its kind in Northern Europe. It is the seat of the Archbishop of York, who is the second-highest office of the Church of England, and cathedral for the Diocese of York.

Its seen fire many times over its history, including one attempt to burn it down by a non conformist. It has its own police force to protect it now.

Its formal title is The Cathedral and Metropolitical Church of St Peter in York. The services are sometimes regarded as on the high church Anglo-Catholicism side of the Anglican scale.

It has a very wide Decorated Gothic nave and chapter house, a Perpendicular Gothic quire and east end, and Early English north and south transepts. The nave contains the West Window, constructed in 1338, and over the Lady Chapel in the east end is the Great East Window, (finished in 1408), the largest expanse of medieval stained glass in the world. In the north transept is the Five Sisters Window, each lancet being over 16 metres high. The south transept contains the famous Rose window.

The Minster is 158 metres long and each of its three towers are 60 metres high. The quire has an interior height of 31 metres.

Photo by David Stowell
History
York is said to have had a Christian presence from the 300s. I would like to know more of its early and especially pre catholic Christian history which would have existed in this time and likely to have existed here from Roman times, but I haven't so far found any information relating to York. What we would need to do is to cross reference all early Celtic Christian activity across monasteries and see if this led us anywhere, but that's a project for another day. As Christians usually built on and 'pack and wrapped' earlier beliefs, its likely that the site has some other older significance as well.
The first church on the site was said to be a wooden structure built hurriedly in 627 to provide a place to baptise Edwin, King of Northumbria. Moves toward a more substantial building began in the 630s. A stone structure was completed in 637 by Oswald and was dedicated to Saint Peter. The church soon fell into disrepair and was dilapidated by 670 when Saint Wilfrid ascended to the see of York, he put in place efforts to repair and renew the structure. The attached school and library were established and by the 8th century were some of the most substantial in northern Europe.
In 741 the church was destroyed in a fire. It was rebuilt as a more impressive structure, containing thirty altars. Thirty alters does seem excessive, and its difficult to see why so many were required, this therefore may be an exaggeration that has crept in.
Photo - Early 15th century central tower lantern
and vaulting in York Minster by Richard Croft
The church and the entire area then passed through the hands of numerous invaders, and its history is obscure until the 10th century. There was a series of Benedictine archbishops, including Saint Oswald, Wulfstan, and Ealdred, who travelled to Westminster to crown William in 1066. Ealdred died in 1069 and was buried in the church.
The church was damaged in 1069, but the first Norman archbishop, arriving in 1070, organised repairs. The Danes destroyed the church in 1075, but it was again rebuilt from 1080. Built in the Norman style, it was 365 feet long and rendered in white and red lines.
The new structure was damaged by fire in 1137 but was soon repaired. The quire and crypt were remodelled in 1154, and a new chapel was built, all in the Norman style.
The Gothic style in cathedrals had arrived in the mid 12th century. Walter de Gray was made archbishop in 1215 and ordered the construction of a Gothic structure to compare to Canterbury, building began in 1220. The north and south transepts were the first new structures, completed in the 1250s, both were built in the Early English Gothic style but had markedly different walls. A substantial central tower was also completed, with a wooden spire. Building continued into the 15th century.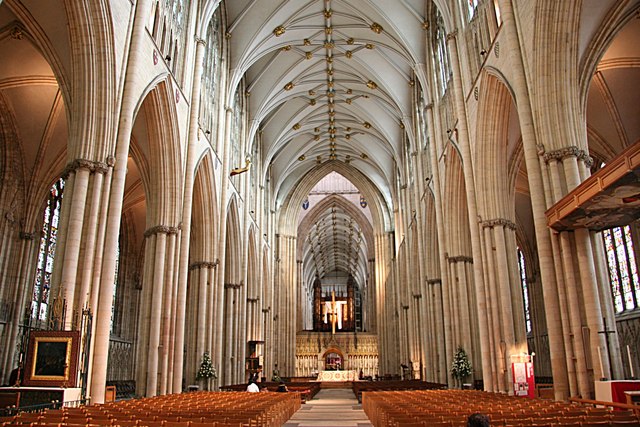 Photo by Richard Croft


The Chapter House was begun in the 1260s, and it was completed before 1296. The wide nave was constructed from the 1280s on the Norman foundations. The outer roof was completed in the 1330s, but the vaulting was not finished until 1360. Construction then moved on to the eastern arm and chapels, with the last Norman structure, the quire, being demolished in the 1390s. Work here finished around 1405. In 1407 the central tower collapsed; the piers were then reinforced, and a new tower was built from 1420. The western towers were added between 1433 and 1472. The cathedral was declared complete and consecrated in 1472.
With Henry VIII came the English Reformation which led to the first Anglican archbishop, the looting of much of the cathedral's treasures, and the loss of much of the church lands. Under Elizabeth I there was a concerted effort to remove all traces of the Roman Catholic Church from the cathedral, there was destruction of tombs, windows, and altars. In the English Civil War the city was besieged and fell to the forces of Cromwell in 1644, but Thomas Fairfax prevented any further damage to the cathedral.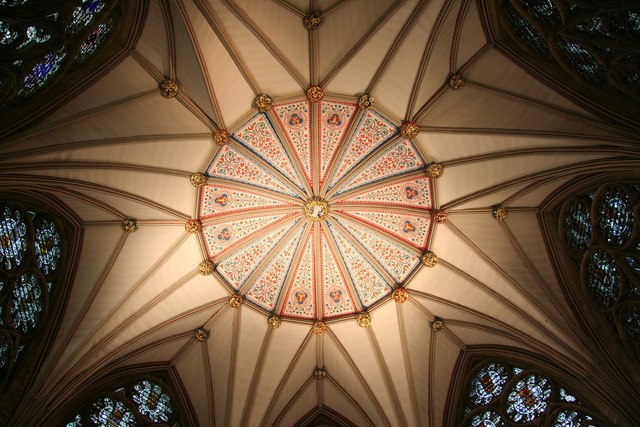 Chapter house ceiling - Photo by Richard Croft


Following the easing of religious tensions there was some work to restore the cathedral. From 1730 to 1736 the whole floor of the Minster was re-laid in patterned marble, and from 1802 there was a major restoration.
On the 2 February 1829 an arson attack by non-conformist Jonathan Martin inflicted heavy damage on the east arm, and an accidental fire in 1840 left the nave, south west tower, and south aisle roofless, blackened shells. The cathedral slumped deeply into debt, and in the 1850s services were suspended.
From 1858 Augustus Duncome worked successfully to revive the cathedral.
During the 20th century there was more concerted preservation work, especially following a 1967 survey that revealed the building, in particular the central tower, was close to collapse. £2,000,000 was raised and spent by 1972 to reinforce and strengthen the building foundations and roof. During the excavations that were carried out, remains of the north corner of the Roman Principia were found under the south transept.
A fire in 1984 destroyed the roof in the south transept, and around £2.5 million was spent on repairs. Restoration work was completed in 1988, and included new roof bosses to designs which had won a competition organised by BBC Television's Blue Peter programme. In 2007 renovation began on the east front, including the Great East Window, at an estimated cost of £23 million.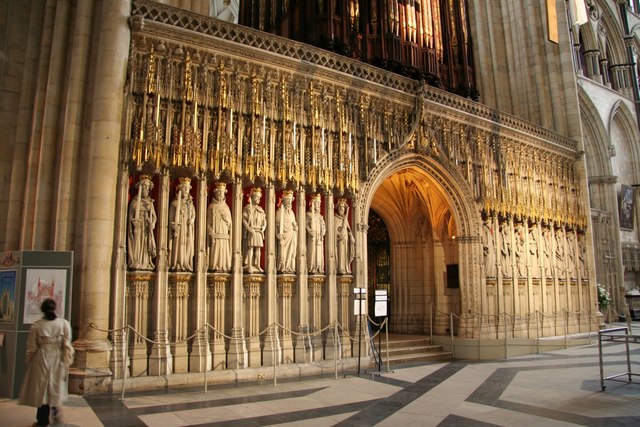 | | |
| --- | --- |
| Above:- Choir Screen in York Minster known as the Kings' Screen with 15 near life-sized images of Kings of England from William I to Henry VI, all but one (Henry VI by Michael Taylor in 1810) carved c1475-c1506. The screen by Master Mason William Hyndley c1420. Photo by Richard Croft | |
Today
Like many of the large cathedrals, tourism is now a major industry, with York Minster they have broke it into three tourist attractions, but tickets for combinations are available. Religion has, over most of history, been as much about money as belief so I suppose this is just carrying on the tradition. Like most non London cathedrals you can take photographs for your own use with only one restriction.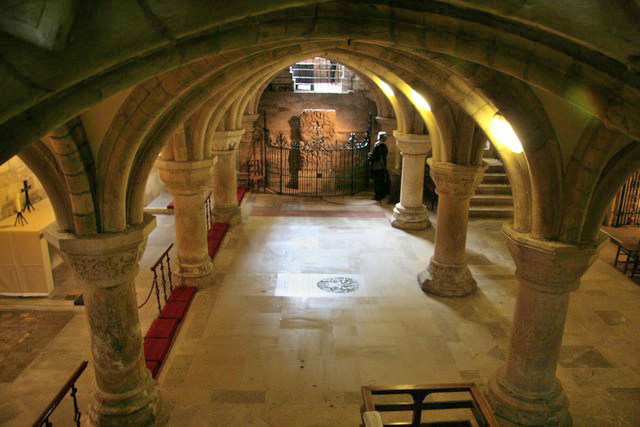 Crypt - Photo by Richard Croft


---
Location: York Minster, York, Yorkshire

Grid Reference: SE602521

Ceremonial County: Yorkshire

Aerial photo: Multimap

3D birds eye Multimap

Getting there: centre of the city of York, then see map above

Access:

Website: Own History Timeline Interactive map

Other Useful Websites: wiki

Email: info@yorkminster.org

Address: York Minster, Church House, Ogleforth, York

Postcode: YO1 7JN

Telephone: 01904 557200

Opening Times: Tourism: Mon-Sat: 9am (9.30am November- March) - last entry 5pm
Sunday: 12 noon-3.45pm
No sightseeing on Good Friday and Easter Sunday or on Sundays before 12 noon
Open outside these times for services.
Check event calendar for days and period when access to part or all is restricted.

Charges:

No cost to go to services or to light a candle.

Entry into the Minster (optional free guided tour)
Adult: £5.50; Senior (60+)/student: £4.50; Child (16 and under): Free

Entry to the Undercroft, Treasury & Crypt
Adult: £4.00; Senior (60+)/student: £3.00; Child: £2.00

Entry to the Tower:
Adult: £4.00; Senior (60+)/student: £3.00; Child: £2.00

Minster Plus Ticket:

Entry to the Minster and Undercroft, Treasury & Crypt

or

Entry to the Minster and Tower.
Adult: £7.50; Senior (60+)/student: £6.00 ; Child: £2.00

Do Everything Ticket

Entry to the Minster, Undercroft, Treasury and Crypt and Tower

Adult: £9.50; Senior (60+)/student: £8.00; Child: £3.00

Photography including camcorders, for personal use, is free.

Photographs may NOT be taken in the Undercroft.

Nearby Locations: York City Walls, Roman

Other Location Pages:

List of all Anglican cathedrals and other major Anglican churches in the UK

Abbey section, including all major Christian buildings, regions orders, normal layouts and history.

Notes:

Photography including camcorders, for personal use, is free.

Photographs may NOT be taken in the Undercroft.

---

| | | |
| --- | --- | --- |
| Page Ref: York_Minster | Classification: Abbeys (incl. all Christian buildings) | Date Updated: 09/2008 |
---
Please let us know any other information that we can add to the Further information and Planning Grids or page and any errors that you discover. Before making a long trip to any location it is always wise to double check the current information, websites like magazines may be correct at the time the information is written, but things change and it is of course impossible to double check all entries on a regular basis. If you have any good photographs that you feel would improve the illustration of this page then please let us have copies. In referring to this page it is helpful if you quote the Page Ref and classification at the bottom of the Planning Grid above. To print the planning grid select it then right click and print the selected area.
Please submit information on locations you discover so that this system continues to grow.