Westminster Abbey

Westminster, London

Quick Guide
See below grid for details
"A World Heritage Site"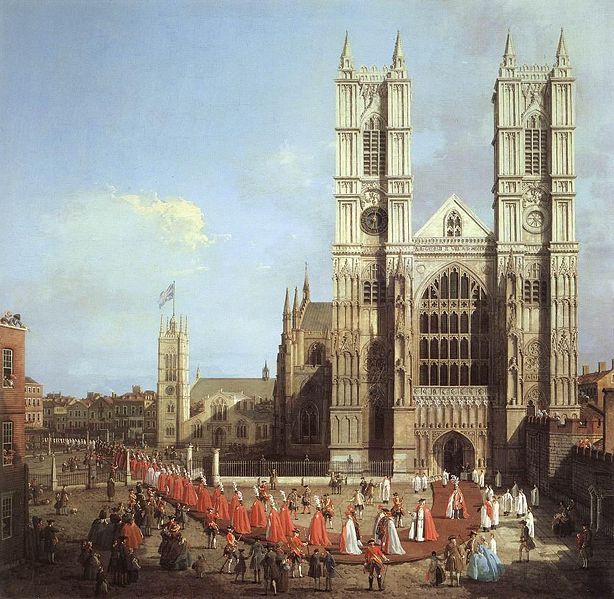 Period painting of the Westminster Abbey with a procession of Knights of the Bath, by Canaletto, 1749.
From Wikipedia

No photography in the Abbey, they want to sell you images
Westminster abbey is a former cathedral, and the burial place of royalty. The Abbey has been the Coronation church since 1066 and is the final resting place of seventeen monarchs. The present church, begun by Henry III in 1245, with the medieval shrine of an Anglo-Saxon saint still at its heart.
According to tradition a shrine was first founded in 616 on the present site, then known as Thorn Ey (Thorn Island), its tradition of miraculous consecration after a fisherman on the River Thames saw a vision of Saint Peter justifying the presents of salmon from the Thames fishermen that the Abbey received.

In the 960s or early 970s, Saint Dunstan, assisted by King Edgar, planted a community of Benedictine monks here. The stone Abbey was built around 1045–1050 by King Edward the Confessor and was later rebuilt again by Henry III in 1245, who had selected the site for his burial. It was consecrated on December 28, 1065, only a week before the Confessor's death and subsequent funeral. It was the site of the last coronation prior to the Norman Invasion, that of his successor King Harold.

See its history page, link below or the Wikipedia entry.

The plan on the right is of the building as it was in 1894. Very little of the Abbey remains are visible and with its large number of tourists and being based in London, where things are rarely as friendly, its unlikely we will get to discover much, so although well known and the potential to offer some interesting discoveries, its not currently on my list to explore.
---
Location: Westminster Abbey, Westminster, London

Grid Reference:

TQ300795

Ceremonial County: London

Map Link: StreetMap

Aerial photo: Google Aerial

Getting there: Located to the west of the Houses of Parliament, away from the river. Cross Westminster Bridge, past Big Ben, it's then across Parliament Square on your left.

Access:
Website: Own History
Other Useful Websites:

W

iki
Email:
Address: The Chapter Office, 20 Dean's Yard, Westminster Abbey, London
Postcode: SW1P 3PA
Telephone: 020 7222 5152
Opening Times: Usually Monday-Saturday All Year. The following is a typical schedule

| | |
| --- | --- |
| Westminster Abbey | 9.30am - 3.30pm |
| Chapter House | 10.30am - 4.00pm |
| Pyx Chamber | 10.30am - 3.30pm |
| Westminster Abbey Museum | 10.30am - 4.00pm |
| Westminster Abbey Shop | 9.15am - 5pm |
| Cloister | 8.00am - 6.00pm |
| College Garden | 10.00am - 6.00pm |
| St Margaret's Church | 9.30am - 3.30pm |

Click here to check any particular date

Charges: Adults £16; Concessions £13 (Students over 18 with valid ID and 60+);

Child (11-18) £6; Children under 11 FREE when accompanied by an adult

Family (2+1) £32, (2+2) £38 plus £6 per extra child (1st chargeable child with two adults FREE).

Free entry to wheelchair visitors and their carers.

Cloisters ONLY access is FREE.

College Gardens access FREE

St Margaret's church access is FREE

No photography in the Abbey, they want to sell you images

So save your money and visit somewhere else

Nearby Locations: Westminster Palace Saint Margaret's Church

Other Relevant Pages:

List of all Anglican cathedrals and other major Anglican churches in the UK

Abbey Section, including all major Christian buildings, regions orders, normal layouts and history.

World Heritage Sites World Heritage Sites - Further Information

World Heritage Sites in the UK

Notes:

No photography in the Abbey, they want to sell you images

They say - "Photography and filming (pictures and/or sound) of any kind is not allowed in any part of the Abbey at any time. As a visitor, you are welcome to take pictures in the Cloisters and College Garden for personal use only. Postcards showing the interior of the Abbey are available to buy in the Abbey shop."
---
This page is a Quick Guide, the idea of Quick Guides is to allow very basic information and linking forward information to be added to the system rather than having to wait until a full location guide has been developed. It should therefore be considered a development stage rather than a finished objective. Once more information is known the objective is to create either a Location or Featured Location page which has two grids and far more information.
Please let us know any other information that we can add to the Grid(s) or page and any errors that you discover. Before making a long trip to any location it is always wise to double check the current information, websites like magazines may be correct at the time the information is written, but things change and it is of course impossible to double check all entries on a regular basis. If you have any good photographs that you feel would improve the illustration of this page then please let us have copies. In referring to this page it is helpful if you quote both the Page Ref and Topic or Section references from the Grid below. To print the planning grid select it then right click and print the selected area.
Please submit information on locations you discover so that this system continues to grow.