Glastonbury Abbey

Glastonbury , Somerset

Featured Location Guide
Glastonbury is a site of pilgrimage today for Celtic Christians, members of the Church of England, for Catholics, and Pagans, its visited by those interested in King Arthur or the grail, by those interested in the history and abbey sites and by those seeking a pleasant and peaceful place.
At 36 acres these grounds are huge, it contains over 250 trees, several ponds, a nature reserve complete with badgers set, and of course the abbey remains. While here in addition to the historic site we photographed ducks and geese, watched many other species of wildlife and got close photographs of a heron. We were surprised both by the size of this site and the amount that there was here. As we arrived when it opened, for some time there was hardly anyone except us.
There are a number of sizable pieces of the church standing, at first it looks like several buildings until you line them up and realise it was all a part of one huge church. In addition in mint condition is the abbots kitchen, interesting shaped very similar to the central part of the very first monastery on this site. There is also a chapel in good condition and a range of deferent remains ranging from substantial pieces to markings on the ground. The place where the monks are said to have found the tomb of King Arthur and the point they reburied the remains are marked. There is also a museum that has many remains, a model of how the monastery may have looked, and other information. You can see the thorn bush connected with the legends around Joseph of Arimathea. The abbots kitchen has a cooking display and more, and there is a herb garden, with plants marked including their medical use, within the grounds.

Ideally you need at least 3 hours here, and if you include Glastonbury, visiting the Abbey Barn now a local museum, and the Tor you need a full day. Abbey entry includes re-entry the same day so start with the Abbey, arrive early if you can to get parking, and photos with few people in. A minibus goes from the car park to the Tor. Glastonbury has a lot of 'new age' shops, crystals, witchy things and the like. You will often find re-enactment groups within the Abbey grounds, and may see other groups around the town either connected with this or with new age groups, so carry a camera and be prepared.
The History
Glastonbury has several histories, you can choose the one you believe. Some say it was the place of the first Christian church in Britain, and up to and including Norman times this was the documented version, or you can believe that this was all myths and that the Catholic church came here many hundreds of years later. So what can we document.
In our article Christianity in Britain,

we look at how Christianity arrived in Britain and the early history, including the development of Celtic and Roman branches of the Christian faith and their amalgamation. This amongst other things details the earliest known records relating to Christianity arriving in Britain, and the Celtic or insular church that existed here before the church of Rome arrived, and how it was all amalgamated eventually.
Other articles within the Abbey Section include:-

The development of monasteries and abbeys in Britain looks at how monasteries came about, the development of the brands, numbers involved and why each developed and eventually fell out of favour.

Dissolution of the monasteries looks at the background to, and what was going on in Europe, what led to and the results of the dissolution of the monasteries, which had little to do with who Henry VIII wished to marry.

We also have a number of articles around King Arthur including:-

King Arthur, and the locations connected to him.

King Arthur, did he exist, and who was he.

If we look at the history we have, the abbey we can visit at Glastonbury today is at least the 5th church on this site, its likely however that there would be at least a couple of rebuilds between the first and the second, we know about. They may not have all been on the same site.
1st Church

The story starts in 63AD with the foundation of the first Christian community at Glastonbury by Joseph of Arimathea, this is within the period when Romans were here. It is said that St Patrick visited in 443AD, itssaid to be the burial place of King Arthur who is said to have died around 542AD.

2nd Church

The building of a new church in 712AD, the adding of cloisters in 940AD, King Edmund buried in the abbey in 967AD.

3rd Church

The church pulled down and replaced by a larger one in 1077 by Abbot Thurstin who is then dismissed after his soldiers kill monks by the High Altar.

4th Church

Between 1100 to 1118 Abbot Herlewin demolishes the Norman church and builds another on a grander scale. In 1125 The Cloisters, Bell Tower, Chapter House, Refectory, Infirmary, Outer Gate, Brewery and Stables are built, and the same year William of Malmesbury completes his history of the Abbey, "De Antiquitate Glastonie Ecclesie". In 1184 a fire destroys the Abbey including the Old Church.
5th Church
Two years later in 1186 The Lady Chapel is consecrated on the site of the Old Church and King Henry II puts his chancellor, Ralph Fitzstephen in charge of rebuilding the monastery. 1189 work starts on building the East end of the Great Church, 1191 King Arthur and Guinevere's tombs found in the cemetery.

Click on the smaller images to see larger versions
Further expansion over the years until the Dissolution of Glastonbury Abbey in 1539. The Abbey buildings are ransacked and all valuables sold or removed to the King's treasury. Abbot Richard Whyting, who had been a signatory to the Act of Supremacy that made Henry VIII the head of the church, resisted and was hanged, drawn and quartered as a traitor on Glastonbury Tor on November 15 1539.
In 1560. A colony of weavers is established on the Abbey site.

1908 The Abbey ruins are purchased by the Bath and Wells Diocesan Trust. Consolidation and repair of the ruined Abbey begins.

So much has happened here that this by necessity is a very potted history.

Besides this:

All the abbots from 601 through to 1539 have been identified, and are listed on their website, over 50 in total.
There is writings about King Arthur, although some think the burial site find and reburial this was a publicity stunt by the monks of the time.
There is a connection with the Grail, the cup from the last supper, and there is a lot of other information I have researched before on this, and written about but not on this website (yet), that tracks the grail, and later connected items.
At the time of the Domesday book, 1086, Glastonbury Abbey was the richest abbey in the country, in the 14th century only Westminster abbey was wealthier than Glastonbury.
Pagans and Celtic Christians may find the well in the south wall accessible from the crypt of special interest.

Entrance to the Well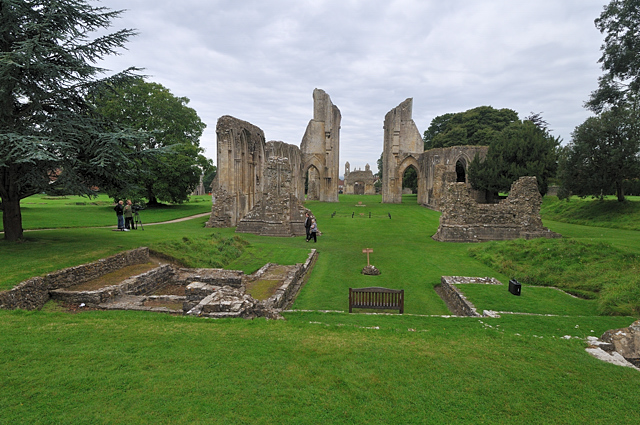 Click on the smaller images to see larger versions
---
Further information Grid

Location:

Glastonbury Abbey, Glastonbury, Somerset

Ceremonial County:
Somerset

Grid Reference:

ST501388

Map Link:

StreetMap

Aerial photo:
Google Aerial

Route(s):

Best Times to Visit:

E-mail:

Website:

Own

Other useful websites:

Wiki

letters relating to 1539

Nearby Locations:
Other Relevant pages:
Abbey Section, including all major Christian buildings, regions orders, normal layouts and history.
.
---
Planning Grid

Location:

Glastonbury Abbey, Glastonbury, Somerset

Grid Reference:

ST501388

Getting there:

Centre of Glastonbury

Access:

Well marked off car park or via entry arch from main road near town centre, both lead to the ticket office.

Parking:

Parking, pay and display is just outside, but space is scarce, so you may need to park further way in a town car park and walk to the site, Glastonbury is small and the site is near the centre.

Facilities:

All you would expect at a major tourist attraction, plus town is only a couple of minutes walk.

Things To Do, See and Photograph:

Buildings, architecture, views, wildlife

What to take:

Tripod, level, wide angle lens.

Nature highlights:

A variety, including a badger set, and nature reserve and a variety of birds, butterflies etc. We photographed geese ducks, a heron and saw much more.

Address:

Glastonbury Abbey
The Abbey Gatehouse
Magdalene Street
GLASTONBURY
Somerset

Postcode:

BA6 9EL

Telephone:

01458 832267

Opening times:

Dec-Feb 9am-4pm (closed Christmas Day).
Mar-May 9am-6pm
Jun-Aug 9am-9pm
Sep-Nov 9am-5pm

Charges:

Adults £6; Child (5-15) £4, under 5 free, Family (2+2) £16
Over 60's and students £5.
Tickets valid all day on day of issue. Year pass also available.

Photo Restrictions:

None they say "Photography and video is welcomed, provided it is for personal consumption only. No commercial or other use is permitted without prior written permission." Wedding photography subject to entry fees being paid, see website.

Other Restrictions:
No services - site owned by Church of England via a trust.
Special Needs Access:
Wheelchair access to most of the area. The Ticket Office, Gift shop, Toilet and Museum are all interlinked, are modern and are all properly ramped, with stone and tarmac surfaces.
Special Needs Facilities:
Children Facilities:
Ideal site for children but watch near ponds. Must be supervised at all times.
Dogs Allowed:
Have to be kept on leads at all times - wildlife about.
Please let us know any other information that we can add to the Further information and Planning Grids or page and any errors that you discover. Before making a long trip to any location it is always wise to double check the current information, websites like magazines may be correct at the time the information is written, but things change and it is of course impossible to double check all entries on a regular basis. If you have any good photographs that you feel would improve the illustration of this page then please let us have copies. In referring to this page it is helpful if you quote both the Page Ref and Topic or Section references from the Grid below. To print the planning grid select it then right click and print the selected area.
Please submit information on locations you discover so that this system continues to grow.