The abbey marks the spot where the Battle of Hastings was fought in 1066. William the Conqueror had the abbey built in 1070, although he died before it's completion, with the high altar built where Harold was killed. A stone plaque now marks the spot. Following the dissolution, parts of it became a private home and other parts of the monastic buildings were ravaged for building materials. It stayed in private hands for many years and during the second world war it was an all girls boarding school, it was sold to the Government in 1876 and today is in the care of English Heritage.
All that is left of the abbey church is an outline on the ground, but parts of the abbey's buildings are still standing particularly those building between the 13th and 16th centuries, these are still in use by an independent school 'Battle Abbey School' today. Visitors are not usually allowed inside the abbey itself, although during the school's summer holidays access to the Abbots Hall is often allowed.
The best preserved part of the abbey is the impressive 14th century Great Gatehouse.
Visitors today have access to the ruins of the abbey, the adjacent battlefield and there are displays and an interactive exhibit on the history of the site, as well as an audio tour of the 100-acre battlefield. The audio tour re-creates the sounds of the battle, as you stand where the Saxon army's ridgetop 'shield wall' watched the Normans advancing towards them. It uses 'interviews' with soldiers, monks and key figures from the time to retell the story.
The abbey museum explores the history of the abbey and includes artefacts found on site during excavations.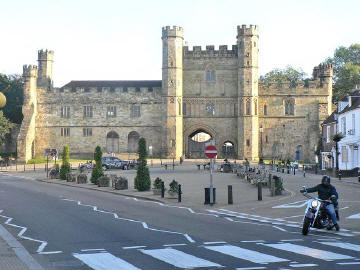 Abbey Gatehouse

Chris Downer

Dormitory Range

Chris Downer