Crazy Event to Thoughtful Articles
This week we have quite a varied collection of articles. Plus have you noticed our new banner above.
Next week, we will have another feature week - so watch out for this, its the largest project we have taken on so far, and something you will all find exceptionally useful. Due to its size, next weeks newsletter may be a day late, but we are intending to have it out on Friday as usual.
Crazier than crazy
You probably noticed with the photographers diary that one of Britain's most bizarre events is coming up next Monday the Cheese Rolling at Coopers Hill, Gloucestershire, where large cheeses are rolled down a very steep hill which would be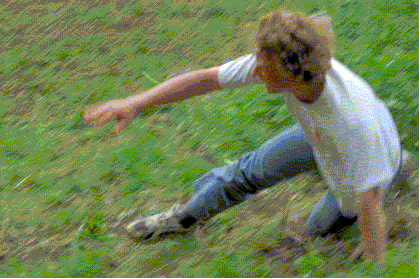 How to go down hill after a cheese!
difficult to walk down and people try to run after it, of course none stay upright they all do a series of tumbles and acrobatics, flying through the air on their way to the bottom.
We went a few years back, and its definitely an experience to remember. Hurled off the top and bouncing and picking up speed these chesses are moving by the time they are half way down. The challenge I gave myself was to catch the cheese in the picture as it went by but with the tumbling racers in the background. Many said this would be impossible to do, what do you think and would you feel you are up this challenge. We have a location guide for the event,

and an article on photographing this event.

Plus we have put together a listing of other Cheese Rolling and other crazy cheese events.

Another bizarre custom takes place at Tetbury, not that far away on the same day, although starting later it would be difficult to see the whole of both of these events. But as both has a series of races you could see most of the Cheese Rolling before going onto Tetbury. See the diary for information on the Tetbury event. The best view of the Tetbury event is from about halfway down the hill.
Insurance
An article we have been promising people we would write for some time is on insuring camera equipment. How do you view insurance and the insurance industry, as a necessity, as legalised robbery, or in some other way. Often it appears that the concept behind the operation of insurance companies is to take your money and never pay out. The concept of course is that we all pay a small amount and if unfortunate enough to have to make a claim recover our losses. Last year, you may recall, near here there were floods and a lot of people needed to claim, many of which so far have not got the cash out of the insurance companies while many others settled at knock down prices as they had no other option, and over 700 families are still not back in their houses. The insurance industry of course was bleating away, worst year ever and all that, they had to pay out 40% of the premiums they took and they only usually have to pay out 8%, of course they had to increase premiums, and not insure people again who might claim. So it turns out that with home insurance 8% is to cover insurance claims and 92% the cost of selling it, avoiding making payments when due. You may gather that I 'm not a great fan of insurance companies, and perhaps look more closely at the many escape routes they give themselves on policies. So what about camera insurance, well we have taken a look at the policies to see what they actually offered, and exclusions. The fact that there are no exclusions that you think relate to you doesn't mean you will get paid of course, there are probably many more wriggles. So do we have insurance on our camera equipment - no. We want however to give as balanced a view as we can and we have come across two people who have had cameras insured as a part of other household insurances and had to claim and been paid out. Take a look at our article on camera insurance now.

Whilst on the theme of insurance we have also put together an article on Travel Insurance

for those of you who take trips out of the UK every year. There are many different policies available to suit all sorts of needs including specialist companies that will handle those with more complicated medical conditions, that in some instances will rule out normal insurance available. As with all insurance the detail is in the small print and should be read carefully, even if after buying there is always a cooling off period, so if it's not right for you, you can change it or ask for a refund. To run alongside these two articles we have also put together a listing of both photographic and travel insurance websites.

Animal Factsheet
What is fluffy, has a reputation for breeding, and has long ears? We have a factsheet this week on this mammal,

but as they an be found in so many places we haven't attempted to produce a list of locations where you could photograph them. Have you guessed it yet!
Balancing the budget for new equipment to training
Another topic we find we are discussing from time to time with clients is the balance between buying new or extra equipment and training. The two are in many ways similar, both allow you to get more photographs and both tend to be needed over time in order to make rapid progress. See our article Balancing the budget for new equipment to training.

The Training Course Everyone Enjoys
The final article we have produced this week is on one of the most popular training courses we run, the 'Hands on a Nikon'

or HNK. This was not written up at the time we detailed a number of our other courses, as initially the Camera Images newsletter was aimed at supporting clients and as nearly all of the clients had already done the HNK course, it didn't seem necessary to define it here. Having decided to develop this website in a far larger way, with it becoming the Photographers Resource of value and benefit to all photographers, it now makes sense to put this omission right.
Some Mysterious Giants
Some weeks ago we looked at white horses and other hillside features, this week we have details on the only two in Britain that are shaped like people the Cerne Abbas Giant

and Long Man of Wilmington.

Another of Our Models
We are introducing another of our models this week that you may come across when you attend training here with us. She has already helped clients who have come on Portrait sessions with us as well as for those clients who wanted to have extended time with a model to get a wider range of images and build a portfolio. See here for pictures and a short article on Viv.

Training Centre News
We continue to add both more equipment and upgrade resources. The latest two additions is upgrading a range of chairs to executive high backs, title and swivels and the addition of a statue and plinth in the rear garden so that we now have something else to point our cameras at out of the large rear windows.
The Power of the Long Lens
A news item which hit the main BBC TV news this week was of a photographer who managed to take a picture of the Housing Minister, Caroline Flint, entering No 10 for a Cabinet meeting with her briefing notes on show. Within them it was pointing out that UK house prices could fall by 5-10% this year. This shows the power of the long lens and of course the amount of detail that is captured by today's digital cameras, combined with the ability of being able to crop images and blow them up to be able to read small text on documents captured in images. So Ministers and others in public positions will need to be a bit more careful in what they have on display in public if they want to avoid this sort of thing happening in the future.
Wedding Photographers are now Identify Theft fraudsters and potentially in breach of Copyright!
We have heard a lot in the photographic press over the past few months of situations where photographers have been stopped or even harassed by the police over taking pictures which could construe them as being taken for terrorist purposes. Well it appears that identity fraud and photographers are also now becoming an issue, as far as the Home Office is concerned. It has been reported that Home Office guidelines have been issued to Registrar Offices around the UK stating that wedding photographers are no longer allowed to take pictures of couples signing the register. Their belief is that it invades the privacy of other couples who have already signed the same page, as their signatures may be visible and in addition to this they want to prevent photographers from using the personal details seen on the register. Their comment 'taking a photograph could be construed as a copy of the entry and a breach of the Crown Copyright, there are four entries to a double page so the details of another marriage could also be photographed'. What are we coming to, as if genuine wedding photographers will also be running an identity fraud operation on the side, and when you consider this information is on the internet for anyone to access anyway it seems a rather extreme way for someone wanting to steal an identity to go to.
Lowepro Cashback Offer
Lowepro Bags have announced a Cashback scheme. Buy any of their products from £50 or more between the 1st May and 31st July 2008 and receive £10 cashback with any bag purchased for £50-£100 and £20 cashback on any bag over £100. The promotion is only valid in the UK, and purchased from a UK dealer or UK registered internet retailer of DayMen (official UK importers). For more information and a claim form see this link on their website.