John Constable, Flatford Mill,
Then and Now

Flatford, Suffolk

Location Guide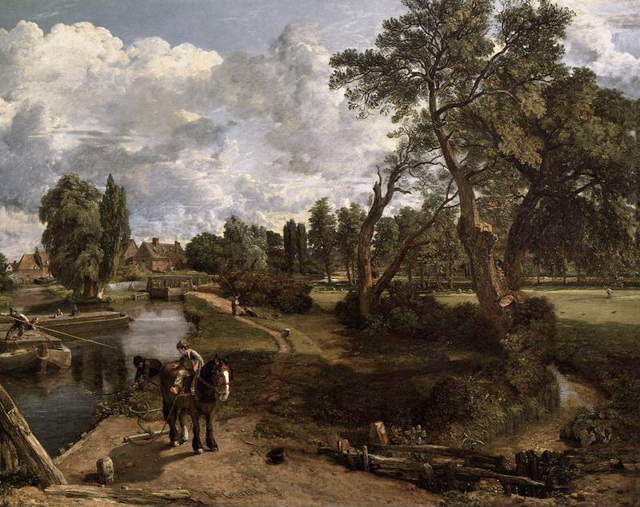 This view looks from the bridge by Bridge Cottage east to the lock, right, and Flatford Mill

left. The tow path had to run alongside the river so horses could pull the boats, Taday, we have tress growing on the side in the river and the path the wrong side of the trees. Two Boys Fishing

is the reverse of this from the lock looking back to the bridge, while Boat Building near Flatford Mil,

is just off the left of this painting by the boats.
Unfortunately you cannot see this view today as there are just too many trees.
This is today's view from about the same position
We go on to the bridge to get around the trees
From the centre of the bridge looking down we can see where the mill stream breaks away from the lock.
From nearer to this junction we can see the two channels.
Moving down we get to the lock,
and beyond the Lock we get the first real view of Flatford Mill, but we are now at a completely different angle.
---
Please let us know any other information that we can add to the Grid(s) or page and any errors that you discover. Before making a long trip to any location it is always wise to double check the current information, websites like magazines may be correct at the time the information is written, but things change and it is of course impossible to double check all entries on a regular basis. If you have any good photographs that you feel would improve the illustration of this page then please let us have copies. In referring to this page it is helpful if you quote both the Page Ref and Topic or Section references from the Grid below. To print the planning grid select it then right click and print the selected area.
Please submit information on locations you discover so that this system continues to grow.