Tatton Park - Gardens

Knutsford, Cheshire

Featured Location Guide
The 50 acres of gardens at Tatton have been developing for over 200 years with each successive owner of the estate playing their part in its evolution. Today it is an almost complete picture of how the gardens existed in Edwardian times.
There are many different styles and types of gardens throughout the 50 acres displaying an array of different plants, trees and rhododendrons. Highlights include: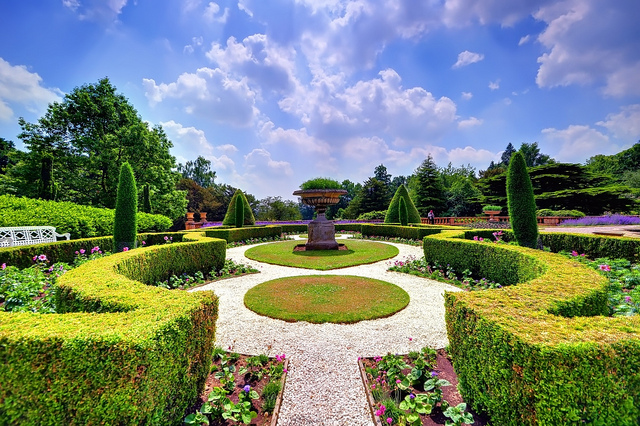 by EtienneUK

A walled Kitchen Garden
This garden has been extensively renovated and today they use cultivation techniques and original varieties of vegetables and fruit to reflect the Edwardian era using varieties that were known to be used at Tatton during this period. It has a vegetable garden and a walled orchard of apple, pear, and plum trees. Produce can be looked at here and then purchased from the garden shop to take home and enjoy.
Japanese Garden
The Japanese garden is a later introduction and possibly as a result of a visit made to the Anglo-Japanese Exhibition at the White City in London in 1910. It resulted in a team of Japanese workment arriving at the gardens to build it, and the Shinto Shrine and other artefacts are said to have been brought in from Japan. It is a style of Tea Garden and has water, bridges, pathways and lanterns. There is very little flora, but has many Japanese Maples or Acers as well as bamboo and evergreen plants.
Glasshouses - there are 7 glasshouses each having it's own speciality in an area of the garden. These are:
Orchid House

Tomato House

Pot Plant House

Vinery

Pinery/vinery

Peach Case

Fig House
Pleasure Grounds
The 'playground' of the garden and contains a massive planting of rhododendron and Azalea which are in full colour during spring. It has a maze based on an early plan of 1700 and to the same format as Hampton Court maze. It has many styles and small garden types including an intricate flower garden containing small beds, the Topiary with it's central feature of a Peacock, an Italian garden at the front of the house, a Rose Garden laid out in 1913, the Tower Garden which is dominated by a tower which would once have been used to watch for sheep stealing on the parkland.
There is also an Arboretum, pools and a large brook/water space as well as a fountain, statues, monuments and an African Hut!
Seasonal Highlights in the gardens are:
Summer

Summer flowering borders

Rose Garden which is at its best June to August

Kitchen Garden with abundance of summer fruits

Container displays of summer flowering annuals

Autumn

Japanese Garden Maples in October and November

Arboretum where the Conifers look stunning

Autumn colour throughout the garden particularly the Beeches, Ironwood and Snowdrop Tree.

Winter

Tree skeletons

Japanese Garden in the snow

Fernery adds a touch of green to a garden visit

Spring

Japanese Garden

Rhododendrons and Azaleas (April to June)

Italian Garden with Polyanthus

Daffodils and tulips

Handkerchief tress in May

Japanese Garden
Although it may be at its most colourful during Spring and Summer, you can see there is something to see all year round.
Download the Garden Guide (PDF).

A map of the garden showing where each of the items are.
Tatton Park holds the annual RHS Tatton Park Garden show,

usually held in July each year.
There are a number of other attractions at Tatton Park including:
Tatton Park is owned by the National Trust but since 1960 has been leased back to Cheshire Country Council who have since managed and financed the property on their behalf.
---
.
---
Planning Grid

Location:

Tatton Park Gardens, Knutsford, Cheshire

Grid Reference:

SJ750817

Getting there:

Tatton Park is signposted from Junction 7 of the M56 and Junction 19 of the M6. The entrance to the park is approximately half a mile from Knutsford Railway Station.

Access:

Via two entrances the Knutsford entrance near Knutsford Station or the Main Entrance off Ashley Road.

Parking:

Plenty of parking in the Park itself. £5 entrance fee per car to the Park which includes parking and £2.50 for Blue Badge Holders

Facilities:

Farm Shop, pottery.

Things To Do, See and Photograph:

What to take:

Nature highlights:

Address:

Tatton Park

Knutsford

Cheshire

Postcode:

WA16 6QN

Telephone:

General Enquiries: 01625 374400

Tatton Infoline: 01625 374435

Opening times:

26th Mar-30th Oct Daily 10am to 6pm (last entry 5pm)

31st Oct-23 Mar Tues-Sun 11am-4pm (last entry 3pm)

Charges:

Adult £5; Child (5-15) £3; Family (2+3) £13.

FREE entry to National Trust Members

FREE entry to RHS members

Photo Restrictions:

Other Restrictions:
Special Needs Access:
Blue badge parking is available close to the Farm by prior arrangement. Cobbled approach to the toilets at Home Farm.
Special Needs Facilities:
Toilets available at Home Farm during attraction opening times. Electric buggies and manual wheelchairs available for loan.
Children Facilities:
Baby changing facilities.
Dogs Allowed:
Assistance dogs allowed
Please let us know any other information that we can add to the Further information and Planning Grids or page and any errors that you discover. Before making a long trip to any location it is always wise to double check the current information, websites like magazines may be correct at the time the information is written, but things change and it is of course impossible to double check all entries on a regular basis. If you have any good photographs that you feel would improve the illustration of this page then please let us have copies. In referring to this page it is helpful if you quote both the Page Ref and Topic or Section references from the Grid below. To print the planning grid select it then right click and print the selected area.
Please submit information on locations you discover so that this system continues to grow.