Article
Lighthouses
The lighthouse section has become one of our largest sections, with a very large number of location guides as well as articles. Conceptually all could be seen by you, although you would need a boat or plane to get to see some.

So why, you may ask, have we done so much on this topic, after all its not probably on most peoples 'must visit' list, and while many people will tour a number of castles or a number of stately homes, the number of people who want to make multiple visits or with a specialist interest in lighthouses is much smaller. Many people will have visited a single lighthouse and many will think if they have seen one, they have seen all there is to discover or to see.

We hope, that through our location guides and articles, to show you that they are not all the same, in fact the opposite there is a far greater variation than in just about any other heritage structure. You have tall ones, short ones, some in towers, some with compact light stations, some spread out. You can find lighthouses with the lamp room, where the light shines from, on the ground, half way up or high in the air. You will find they are powered by different means, have different optics and light systems, and by design, different architecture so you can tell them apart. You will find that historically many came in pairs and there's often a second to see nearby. For example lots of people visit the open lighthouse at Portland Bill in Dorset, and will not be aware that very nearby are the substantial remains of two others. You will also discover that some had two lights originally, some with two towers, another one, light above the other.

Lighthouses have to put a light where its visible, so not too high to be above the clouds or fog, or too low to be able to be seen far, so generally lighthouses on the ground are tall, while those on cliffs are short. In the deep ocean they tend to be taller to be visible above the highest waves.

They also are made to look different so they can be easily identified during the day.

In addition you will discover that many are in some of the most photogenic surrounds, while others are surrounded by wildlife to see, while you're there.

We have a lot of resources for you, we have interactive maps that you can put your mouse over to see the featured lighthouse names, or click on to see the location guide, we have featured lists, that also mark which ones are open and available for you to visit, again linking to location guides. Just about all the location guides have a load of photos, including in many cases photographs from older times, so you can see what has happened, in each case we have a special lighthouse grid with a lot of information and with most we have histories. Where they are open they usually have a second grid giving visiting information and more contacts. If you don't have Broadband or you are trying to read it on a phone or something, then I should apologise now, these pages will take, for you, a long time to load. The starting point for all the resources is the Lighthouses Topic index page.

Photo by Ian Warburton

Photo By Janine Forbes

Photo from Geograph

Farne Islands - Longstone Lighthouse
If you don't understand what a light house is used for and why its still needed, at least for now, then take a look at What are Lighthouses for,

and if you don't realise that they may all be shut and how this could lead to major problems, then you may also find this at least interesting, if not a little scary.
Our articles include a look The Development of Lighthouses

with more specific information looking at Lighthouse Structure,

explaining what all the parts are, and why they are where they are, plus Lighthouse Lights,

which looks at the means of providing light over time, the messages they give and the optics they use.
The three lighting authorities that are central to the development and running of our lighthouses, and we have articles on each of these, are:- Trinity House

coming through history from the time of Henry VIII ,if not before, covering England, Wales, the Channel Isles and Gibraltar, the Northern Lighthouse Board

covering Scotland and the Isle of Man, and the Commissioners of Irish Lights,

covering the whole of Ireland. In the case of the first two we also cover their histories, while in the case of Ireland we have a separate article, History of Lighthouses in Ireland

covering their history, but with additional historic information covering the time before they existed.
We also have information on Photographing Lighthouses

and Staying in or by a lighthouse.

You will find we have more articles, and more are being worked on, so check the section or topic index occasionally to see what else we now have.
Plus we have inks to other sources in the Lighthouses Further Information

page.
You may have noticed that all the pages in this section, also have an extra quick navigation bar at the top. This gives you quick access to the interactive maps, main list and index pages, and for those who have arrived from a search engine, puts the pages back into the system layout, and makes everything available to them.
| | |
| --- | --- |
| Photo by Mike Warren | Photo by Richard Harvey |
---
Sanda Lighthouse


Photo by Gordon Brown

How you can help us
We have found a lot of lighthouses, but there are more still to find, particularly those no longer in use, and while we are not going to try to list every single small light, we do want to add to the listings and where its of enough interest, create location guides on all the others we can find. So if you know of one we have not included please let us know.
We would also like to hear from you if you have more 'life experience stories' or know more facts about any of the lighthouses we have covered or others, as we can add this information, you will find quite a few snippets spread throughout the location guides now.
Do you see something we have wrong, or know a different version of a story or history, we try not to make judgements but to tell all we can find. Something that is wrong in one book can be read by someonelse and then repeated again and again, and become the generally accepted story, but be wrong. In the past on other projects he have found this happening all the time. Similarly the only way not to make mistakes in not to do anything, and as we do a lot, it logically means we will make a lot of mistakes, although we try to check and double check, proof etc to eliminate them. Over time many will come to light and we will get more and more accurate. Its a real help when people know local stories or have first hand experience, if they can assist us, even if at first is looks like more options or confusion.
We have access to a lot of photos, but some lighthouses we haven't found good photos of, do you have any?. We have put old photos in some location guides and will add more to some others, and we have access to an archive of old photos and are seeking out more, but do you have any, if so we would love to have copies of them.
Basically if you have anything, or know anything, then please let us have the chance to see it, on its own it may seem minor, but even the smallest fact can make something else make sense.
Please put links to this section in any lighthouse pages you have on a website, and add them to any other system you can. We have a special lighthouse doorway to allow those with an interest in lighthouses to enter our system from that point of view, and every page is individually able to be linked to, see the links from the bottom of every page on how to link to us.
Also please tell anyone who you feel may be interested, the Web is a great resource, but only if you can find the best resources available.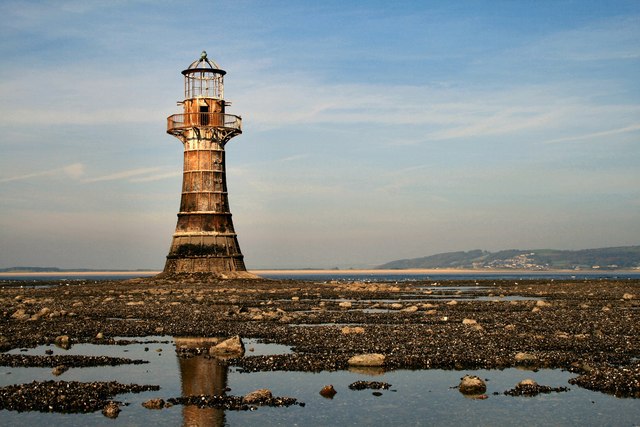 Photo by Rainer Boettchers

Whiteford Lighthouse, Glamorgan