Framlingham Castle

Framlingham, Suffolk

Featured Location Guide
Framlingham castle is a 12th century fortress and the ruins are extensive. It was once a refuge of Mary Tudor before she became Queen in 1553. The place is inexhaustible for children and photographers - though often exhausting for responsible adults.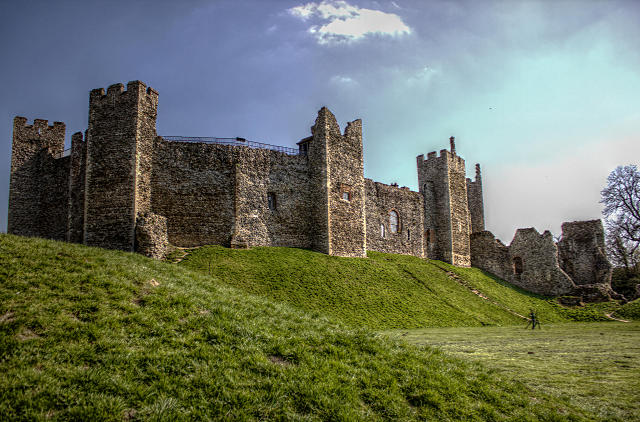 A View from the Moat by Anastasya Shepherd
There are 12th century battlements with half-ruined towers surrounding a large territory. You can walk almost all the way around the castle along the top of the walls, and the views are lovely throughout the year. There are fields, pastures (including occasional cows for a graphic accent), a lake which is a nature reserve and well worth a separate visit, with the Framlingham college buildings colonizing the other side, and the rooftops of the town itself, including the spire of St. Michael's Church.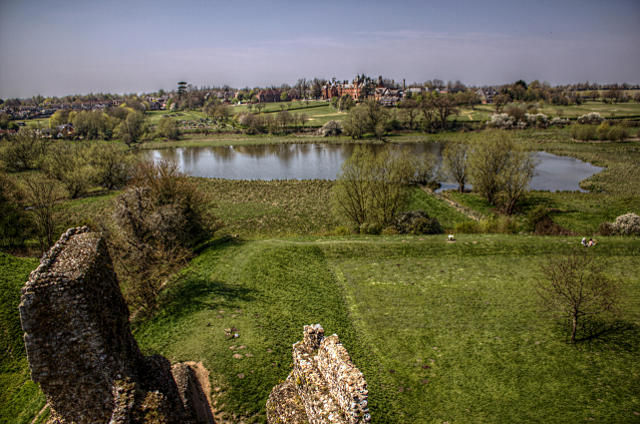 A View of the nearby Mere by Anastasya Shepherd
The architectural details include, the battlements of the castle itself contain a variety of ornate chimneys well worth a look. There are white dove nests in the walls all around the castle and they are easy to photograph, especially if you brought a telephoto lens. There is a dry moat, ideal for rolling down into on one's side, having picnics and photographing children or insects (depending on the lens you happened to bring).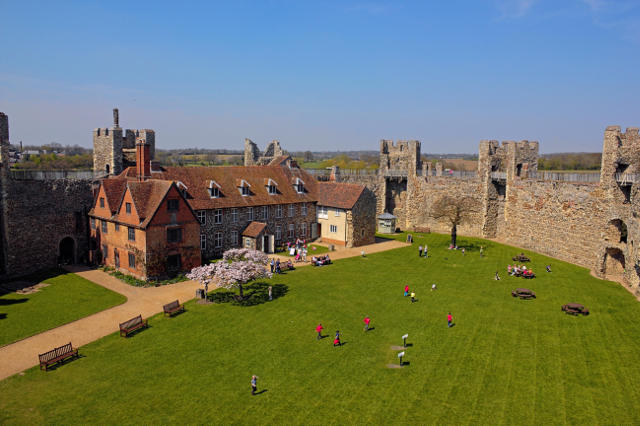 Inside the Castle Walls by Anastasya Shepherd
The main building inside the Castle is well-restored and houses a permanent exhibition about the Castle's history, called "From Powerhouse to Poorhouse". A favourite with children, as it includes cartoons.
There is also a small museum of local history on site (Lanman Trust's museum) - if you like photographing things that acquired character by virtue of being in use for a long time, stop by it.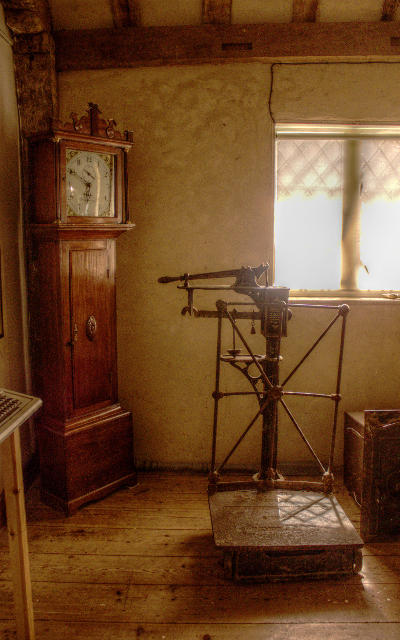 In the Museum by Anastasya Shepherd
The Castle is quite busy and usually has children's entertainment (either billed as such or accidentally provided by historical re-enactment) during school break times. However, it is practically empty during term time.
St Michael's Church is right next to the Castle and quite beautiful, with historical tombs and interesting gravestones. It was built between the 12th and 16th centuries and provides a plethora of interesting details.
For more images of the site take a look at our

---
Further information Grid

Location:

Framlingham Castle, Church Street, Framlingham, Suffolk

Ceremonial County:
Suffolk

Grid Reference:

TM286636

Map Link:

Google

Aerial photo:
Google Aerial

Route(s):

Best Times to Visit:

The Castle and surrounding scenery are spectacular throughout the year and there is a building to hide in from the cold and wind when the weather is inclement. If you prefer peace and quiet, avoid school holidays.

E-mail:

customers@english-heritage.org.uk

Website:

English Heritage

Other useful websites:

Wiki

Nearby Locations:
Other Relevant pages:

How To Photograph a Castle

Framlingham Castle Gallery
.
---
Planning Grid

Location:

Framlingham Castle, Church Street, Framlingham, Suffolk

Grid Reference:

TM286636

Getting there:

On the B1116 in the centre of Framlingham, Suffolk.

Access:

Mostly gravel and grass. Earthworks beyond the castle comprise of rough tracks and very undulating ground. All ground floor areas within castle walls are level compacted gravel surfaces. Exhibition has level access. Access to up levels via steep spiral stairs.

Parking:

Car park is 300m from the entrance although there is a small parking lot just to the left of the gate and a large overflow parking field to the right for busy days. It is never a problem.

Facilities:

There is a food kiosk, picnic area, a small gift shop and toilets in the castle grounds.

There is a pub just outside the gates and the main shopping area is just a couple of minutes walk at Market Hill street. For cheaper fare, walk a little bit further down Bridge Street.

Things To Do, See and Photograph:

You can photograph the ruins, the moat, wildflowers, fields, Town, Church, Museum - the site is a treasure-trove. From romantic to mundane, it contains enough material for years of work. Additionally, there are historical re-enactment shows held in the Castle grounds a few times a year - costumes, horses, armour, weapons etc.

What to take:

Take your favourite lens, a tripod, a wide-angle lens, a macro lens if you wish to photograph flowers and tele-photo lens for wildlife. Dress according to the weather, long trousers help since there are quite a lot of nettles in the moat. If it rains, you can always hide in the Museum. You can also take some beautiful moody shots, since the Castle grounds usually empty in the rain.

Nature highlights:

The lake is a nature preserve and contains numerous species of birds and plants. Wellies and thick trousers may be prudent if you venture there. Doves and ravens roost in the Castle walls. Tourists and insects are everywhere in season.

Address:

Framlingham Castle

Church Street

Framlingham

Suffolk

Postcode:

IP13 9BP

Telephone:

01728 724922

Opening times:

Opening times vary throughout the year. See Website for details.

For 2014/15 season 1 Apr-30 Sept:10am-6pm Daily; 1 Oct-2 Nov 10am-5pm Daily; 3 Nov-28 Dec 10am-4pm Sat & Sun; 29 Dec-4 Jan 10am-4pm closed Sat-Wed; 5 Jan-29 Mar 10am-4pm Sat & Sun only except for half term week when open all week.

Charges:

EH Members: Free; Adults £6.90; Children (5-15) £4.10; Concession £6; Family (2+3) £17.90; Carer free with disabled visitor.

Photo Restrictions:

None that I am aware of, though the English Heritage website has the following general statement for commercial photographers: "We do have some restrictions at certain locations, so if photography is your main reason for visiting, please call the site ahead of your visit to check if any parts of the site are restricted."

Other Restrictions:
None that I am aware of.
Special Needs Access:
There are accessible toilets and handrails and assistance dogs are welcome. There are not many ramps, though the main exhibition area has one.
Special Needs Facilities:
Accessible toilets and handrails.
Children Facilities:
Baby changing facilities are located at the toilets in the car park; bottle/food warming is available on request; there is a children's audio tour and pushchairs are allowed downstairs, with access to the first floor via stairs.
Dogs Allowed:
Dogs are allowed on a lead.
Please let us know any other information that we can add to the Further information and Planning Grids or page and any errors that you discover. Before making a long trip to any location it is always wise to double check the current information, websites like magazines may be correct at the time the information is written, but things change and it is of course impossible to double check all entries on a regular basis. If you have any good photographs that you feel would improve the illustration of this page then please let us have copies. In referring to this page it is helpful if you quote both the Page Ref and Topic or Section references from the Grid below. To print the planning grid select it then right click and print the selected area.
Please submit information on locations you discover so that this system continues to grow.