Durham Castle

Durham, Durham

Featured Location Guide
"A part of the World Heritage Site - Durham Castle and Cathedral"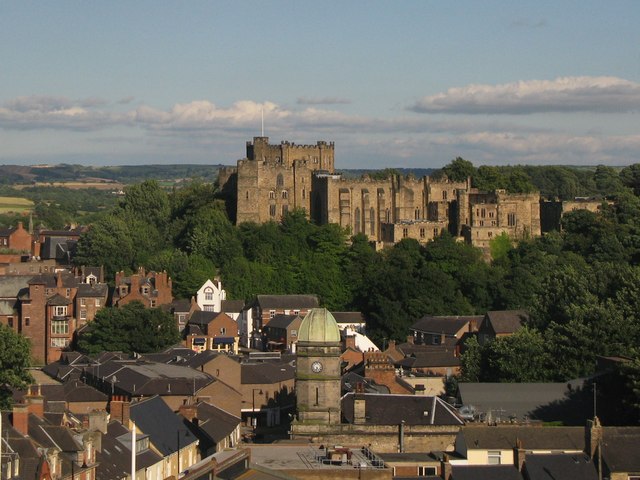 Photo By Mike Quinn


A part of the UNESCO World Heritage Site that also includes Durham Cathedral.


The castle is currently a part of Durham University, and has been since 1840. It is used for both a university building and student accommodation. It is also a registered museum. Guided tours lasting 1.5 hours are available some days is term time, see below, but check first as they may not always take place.
This Norman castle stands on the top of a hill overlooking the River Wear. It is near to Durham Cathedral.


The castle was the home and office of the Bishop of Durham from the time it was built until it was converted to a college. Early bishops exercising power over the region on behalf of the King.
It was originally a mote and bailey castle, the great hall was added in the early 14th century by Bishop Beck and was the largest great hall in Britain until it was shortened by Bishop Fose at the end of the 15th Century. It remains a large hall, 30 metres long and 14 metres high.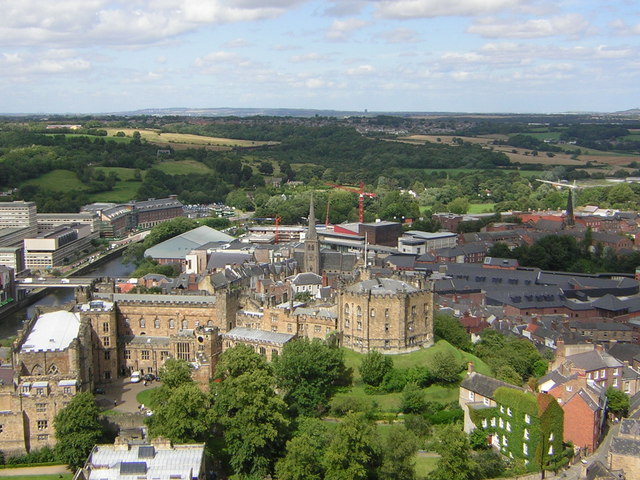 View from the cathedral By Kenneth Yarham


In 1837 it was donated to the new university and named University College. Using original plans, Anthony Salvin (architect) rebuilt the castle keep, mostly to provide student accommodation, most of the current 100 students have rooms in the keep. The great hall is used for students and staff to eat in, and the great halls undercroft is the junior common room. Two chapels are still in use for services and theatrical performances. Other parts of the building house the library, IT facilities and college offices.
The oldest accessible part of the castle is the Norman chapel, built about 1078. Due to the expansion of buildings in the 15th century all but three windows were blocked and the chapel was not then used until 1841, when it was used as a corridor to access the keep. During the Second World War it was used as a command and observation post by the RAF. Its original design and use was then discovered, shortly after the war it was re-consecrated and used for weekly college services.
A larger and more used chapel Known as Tunstall's Chapel, was extended in the late 17th century, but still houses at the back of the chapel 16th century misericords, also known as mercy seats, and when folded up, have a ledge that people standing can rest on. These are often found in older cathedrals and abbeys and the like so that old monks could take part in long services and without them they would not have been able to stand for the time required.
Although its use has changed and it has been changed or rebuilt, the castle can still claim to have been continuously occupied for 900 years and to have changed to suit the needs of the time.
Images marked

can be clicked on to see a larger version
---
.
---
Planning Grid

Location:

Durham castle

Grid Reference:

NZ272423

Getting there:

In Durham - see map

Access:

Parking:

Durham City car parks

Facilities:

Things To Do, See and Photograph:

Castle, views

What to take:

Nature highlights:

Address:

University College

Durham Castle

Palace Green

Durham

Postcode:

DH1 3RW

Telephone:

0191-334-3800 (porters lodge to enquire on tours)

Opening times:

Tours take place in university term time on Mon, Wed, Sat and Sun afternoons at 2pm, 3pm and 4pm. As tours may be cancelled for various reasons call to check in advance.

No tours Late December till 3rd January. Tour lasts 1.5 hours.

Charges:

Adult £5; Children and Concessions: £3.50 (Senior Citizens, Students, Children up to 16); Family: £12.

Photo Restrictions:

Not known

Other Restrictions:
Not Known
Special Needs Access:
The majority of the building is inaccessible to wheelchair users. The tour route involves many steps and staircases, some of which are uneven. With prior notice, arrangements can be made for wheelchair users and guests who require assistance to use one of the service entrances to view the Great Hall, Buttery, Kitchen and Norman Chapel.
Special Needs Facilities:
There will be some as it is a building including both university and student accommodation.
Children Facilities:
Not Known
Dogs Allowed:
Not Known
Please let us know any other information that we can add to the Further information and Planning Grids or page and any errors that you discover. Before making a long trip to any location it is always wise to double check the current information, websites like magazines may be correct at the time the information is written, but things change and it is of course impossible to double check all entries on a regular basis. If you have any good photographs that you feel would improve the illustration of this page then please let us have copies. In referring to this page it is helpful if you quote both the Page Ref and Topic or Section references from the Grid below. To print the planning grid select it then right click and print the selected area.
Please submit information on locations you discover so that this system continues to grow.