Fountains Abbey

and Studley Royal Water Gardens

Ripon, North Yorkshire

Featured Location Guide

"A World Heritage Site"
Europe's largest and most complete monastery remains and more, discover:-
Dramatic ruins of a 12th-century Cistercian Abbey
Elegant ornamental Georgian Water Garden
Medieval deer park and Elizabethan mansion
Water mill
Yorkshire's first World Heritage site, is a 320-hectare (790-acre) estate. The National Trust works in partnership with English Heritage to care for this site. EH maintains the Abbey (owned by the NT) and owns St Mary's Church (managed by the NT). Major restoration of Studley Lake.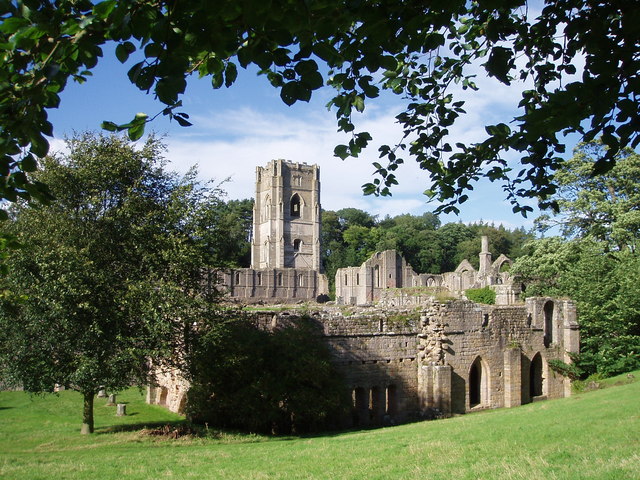 The Tower of Fountains Abbey seen from circular footpath. By J Scott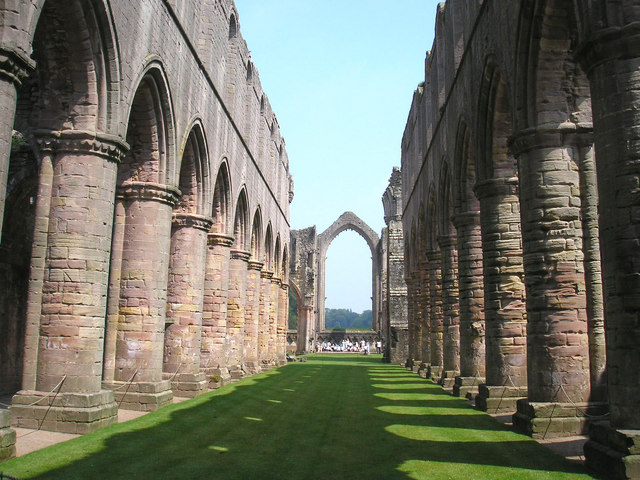 The abbey came first, founded in 1132, later the abbey ruin was used as a feature, amongst others to set up one of England's most spectacular Georgian water gardens, complete with lake, banqueting house, temples and follies. The ruins of the Cistercian abbey, which was and are the largest such remains in Europe, providing a dramatic focal point for the landscape garden, which was laid out during the first half of the 18th century by William and John Aislabie.
Today the views others have named Anne Boleyn's Seat, you could lose your head over. At this point you will find a decapitated statue, this statue became known as Anne Boleyn during the late 18th century providing a link to Henry VIII's second queen and the Dissolution of the Monasteries, and what do we see, amongst other things a ruined monastery.
Fountains Mill, one of Europe's oldest surviving mills, once supplied the monks of Fountains Abbey with flour for baking. It has now been in continuous use for more than 800 years. Today, visitors can see the working water wheel turning as it has for centuries, and explore the life and times of the mill through displays and ancient artefacts.
Other features within the estate include, St Mary's Church (owned by English Heritage), a masterpiece of Victorian Gothic design, and the Elizabethan mansion, Fountains Hall, built partly with stone from the abbey. St Mary's Church also provides a focus for the medieval deer park.
Image - Wikipedia

Monks Refectory By Charles Drakew

Click on small images to see larger versions
---
History of the Abbey
The story starts in York in 1132, where some Benedictine monks from St Mary's Abbey in York were involved in a dispute that turned into a riot, they wanted to observe a more strict discipline than had become the practice. These 13 were exiled, from the abbey, and after unsuccessfully attempting to return Thurstan, the then Archbishop of York provided them with a site in the valley of the River Skell. The enclosed valley had all the required materials for the creation of a monastery, providing shelter from the weather, stone and timber for building, and a running supply of water.
Richard, the prior of St. Mary's, was the leader of the party. Leaving St. Mary's on 9 October, they reached Fountains on 26 December, 1132, and immediately placed themselves under St. Bernard, who sent Geoffrey of Clairvaux to teach them the Cistercian Rule. They then became a Cistercian monastery.
After two years of deprivation and poverty they decided to leave England and seek a home among their brethren abroad. This step was rendered unnecessary when Hugh, Dean of York, joined them, bringing with him money and property. He was followed by two canons of York, Serlo and Tosti, who brought still more wealth by means of which the suffering community was relieved and enabled to carry on the new foundation. In 1135 all their possessions were confirmed to them by King Stephen.
By Chris Gunns

Cloisters by Donny lad

Click on small images to see larger versions
Accounts of how it was built varies, some accounts say work started immediately, building in stone, others that a collection of timber buildings existed to start and the stone building started later, possibly after a major fire in 1146.
In 1146 a colony of monks was sent to Bergen in Norway, and the monasteries of Sawley, Roche, Woburn, Meaux, Kirkstall, and Vandy were founded from Fountains.
While many monasteries follow a standard design its easier to say that this one does not. The church stands a short distance to the north of the River Skell, the buildings of the abbey stretching down to and across the stream. The cloister is to the south, with the three-aisled chapter-house and calefactory opening from its eastern walk, and the refectory, with the kitchen and buttery attached, at right angles to its southern walk.

Parallel with the western walk is an immense vaulted substructure, incorrectly styled the cloisters, serving as cellars and store-rooms, and supporting the dormitory of the conversi (lay brothers) above. This building extended across the river. At its southwest corner were the necessaries (wc's), also built, as usual, above the swiftly flowing stream. The monks' dormitory was in its usual position above the chapter-house, to the south of the transept.

Peculiarities of arrangement include the position of the kitchen, between the refectory and calefactory, and of the infirmary above the river to the west, adjoining the guest-houses. In addition, there is a greatly lengthened quire, commenced by Abbot John of York, 1203–1211, and carried on by his successor, terminating, like Durham Cathedral, in an eastern transept, the work of Abbot John of Kent, 1220–1247, and to the tower, added not long before the dissolution by Abbot Huby, 1494–1526, in a very unusual position at the northern end of the north transept. Among other apartments, for the designation of which see the ground-plan, was a domestic oratory or chapel, 46½ft by 23ft, and a kitchen, 50ft by 38ft. The whole

By Chris Gunns

Click image to see larger version
arrangement and character of the building bespeak a rich and powerful feudal lord, not the humble father of a body of hard-working brethren, bound by vows to a life of poverty and self-denying toil.
While all monasteries gained from not having to pay tax or as much as others, the Cistercian system had the huge advantage of its system involving lay brothers. The lay brothers relieved the monks from routine jobs, giving them more opportunity to dedicate their time to God. It was due to the lay brothers that Fountains attained its great wealth and economic importance, via wool production, lead mining, cattle rearing, horse breeding, stone quarrying and other industrial and agricultural concerns. By the mid thirteenth century Fountains had become one of the wealthiest religious houses in England.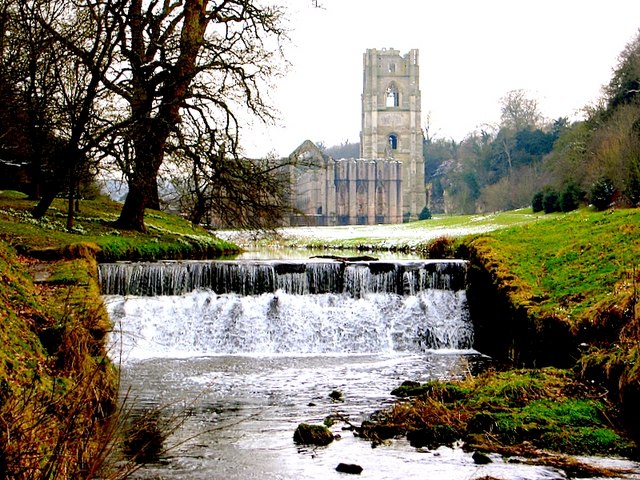 Fountains Abbey and weir.

By Martyn Gorman

In the 14th century economic collapse followed bad harvests and Scots raids, and the Black Death exacerbated the effects of financial mismanagement. The community of lay brothers reduced in size and in the late 15th century dairy farming replaced sheep farming.
Over most of their history they continued to do well, expanding, and sending out more people, a number of bishops and archbishops came from Fountains. Some idea of the abbey's eventual presence can be seen from the fact that the church was 351 feet in length with a nave of 65 feet wide, the refectory was 108 feet by 45, and the cloister 300 feet by 42.
The names of thirty-eight Abbots are known, the last but one was William Thirsk, executed at Tyburn for refusing the Oath of Supremacy (1536). The last Abbot was Marmaduke Bradley who surrendered the abbey to the King in 1540. At the Dissolution there were thirty-one monks with the Abbot, and the revenue was estimated at about £1000.
Following its suppression in 1539, Richard Gresham purchased the abbey with over 500 acres for £1,163. The abbey was robbed of stone to create Fountains Hall. Ownership passed through a succession of hands until 1768 when William Aislabie bought it for 16,000 pounds to incorporate into Studley Royal Park. Parts of the East end of the site were cleared, and alterations made to provide a more pleasing aspect from the East.
---
Studley Royal Estate
The Studley Royal Estate was inherited by John Aislabie in 1693 and remained separate from Fountains Abbey until John's son William purchased the Abbey ruins in 1767 and landscaped them as a picturesque folly to be viewed from the Water Garden.
Between father and son, these two gifted amateurs created what is said to be the most important 18th century water garden in England. The garden stands today much as it was first conceived and as it was depicted in a series of early views attributed to the painter Balthazar Nebot. Work started in 1718, but took on more momentum some years later after John was banned from holding public office. It was after his death that William expanded the property and purchased the abbey ruins.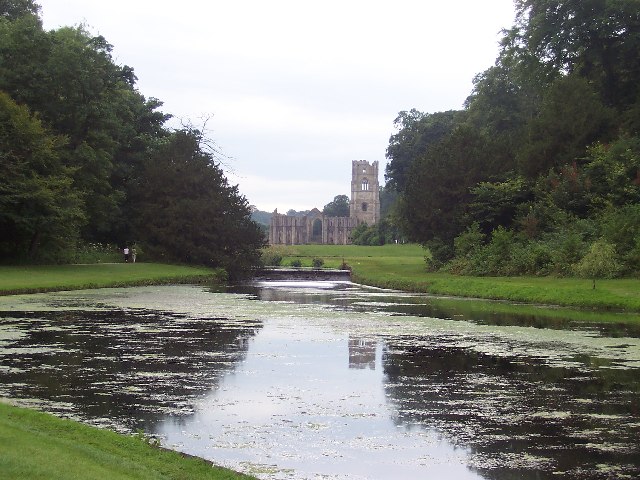 Image by Chris Heaton

The garden's elegant ornamental lakes, canals, temples and cascades provide a succession of dramatic eye-catching vistas. The garden is also studded with a number of follies including a neo-Gothic castle and a palladian style banqueting house. The Water Garden, with its formal, geometric design and its extraordinary vistas, was inspired by the work of the great French landscape gardeners but is entirely individual in character. Studley was also influenced by the work of Queen Anne's gardeners, George London and Henry Wise. Their designs were characterised by mirror like stretches of water in which garden buildings and follies would appear reflected.
If you think you may have heard the name John Aislabie before, then its quite likely that you heard it in connection with the South Sea Bubble. He was the Chancellor of the Exchequer. When in 1719 the South Sea Company proposed a deal whereby it would take over the national debt in exchange for government bonds, Aislabie was a very strong supporter of the scheme and negotiated the contract, he piloted the Bill through the House of Commons.
The South Sea Company had been built on high expectations which it could never fulfil, and it collapsed in August 1720. An investigation by Parliament found that Aislabie had been given £20,000 of company stock in exchange for his promotion of the scheme. He resigned the Exchequer in January 1721, and in March was found guilty by the Commons of the "most notorious, dangerous and infamous corruption". He was expelled from the House, removed from the Privy Council, and imprisoned in the Tower of London.

After his release from prison, he retired to his estate and continued the development of the gardens. The obelisk in Ripon's Market Square, the first in England, was provided by John Aislabie in 1702.

The South Seas Company, established in 1711 by the Lord Treasurer, Robert Harley, was granted exclusive trading rights in Spanish South America. (The British at that time applied the term "South Seas" to South America and surrounding waters. The government then put others out of business that competed with this monopoly. The company prospered from hype and spin. Followed by a wave of "speculating frenzy". The share price had risen from the time the scheme was proposed, from £128 in January 1720, to £175 in February, £330 in March and following the scheme's acceptance, to £550 at the end of May. Leaping to £890 in early June. This peak encouraged people to start to sell, to counterbalance this the company's directors ordered their agents to buy, which succeeded in propping the price up at around £750. The price finally reached £1,000 in early August and the level of selling was such that the price started to fall, dropping back to one hundred pounds per share before the year was out, triggering bankruptcies amongst those who had bought on credit.

Neptune by Steve Fareham

Click image to see larger version
The bribes involved in purchasing the national dept amounted to around £1.3 million. Others were heavily involved, the general deal being to allow politicians to purchase shares without paying for them and then sell them at the higher price later back to the company, less their theoretical initial cost. There were a number of other 'bubbles' around the world also bursting at the same time.
All of this caused a loss of confidence in the whole stock market operation and in order for public confidence to be regained there had to be a show case against someone. Like today when politicians get caught out there is some action, but they still do very nicely out of it, and its likely that John Aislabie negotiated a token sentence in exchange for a fee and not dropping others involved into trouble as well.
People may go into politics with a lot of cash, but you never see a Chancellors or PM who is not ultimately a multi-millionaire, yet their salary is modest, compared to many others.
The Deer Park, Church and Mill
The Deer Park is the oldest feature of the Studley Estate dating from the medieval period. The 360 acre park is still grazed today by 500 Red, Sika, and Fallow Deer. It also has a wealth of flora and fauna.
Studley Royal House once stood in the park, but was largely destroyed by fire in December 1716 and was almost entirely rebuilt. However this building, too, was extensively damaged by fire in 1946 and was demolished shortly afterwards. Only the impressive stable block, built between 1728-1732, has survived, and is now a private residence.
| | |
| --- | --- |
| | St Mary's Church Wikipedia |
St Marys church, is one of two Victorian memorial churches in Yorkshire, the architect of both was William Burges, and its said that St Mary's is Burges' "ecclesiastical masterpiece."
The other was the Church of Christ the Consoler at Skelton-on-Ure, Burges' design demonstrates a move from his favoured Early-French, to an English style. Pevsner writes of "a Victorian shrine, a dream of Early English glory." The interior is spectacular, exceeding Skelton in richness and majesty. The stained glass is of particularly high quality. St Mary's is Burges' "ecclesiastical masterpiece."
Fountains Abbey Mill is the only 12th-century Cistercian cornmill left in the UK and the oldest 'intact' building on the estate.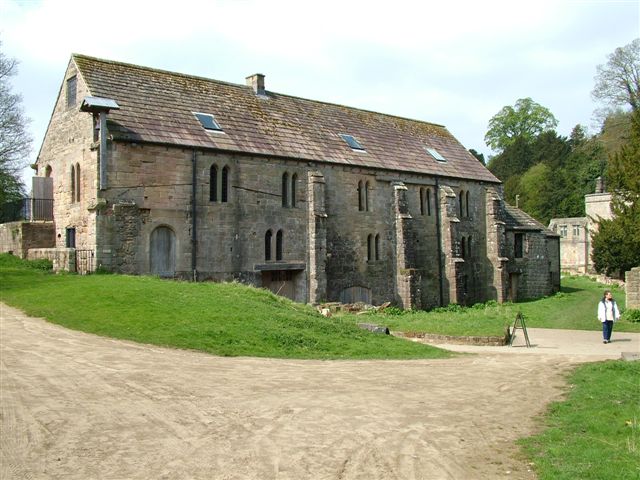 Fountains Abbey Mill

By Pete burnett

Victorian Visitor Attraction
From the middle of the 19th century the ivy-covered ruins of the abbey rose in fame and popularity as a visitor attraction. People would travel by train and arrive by car or charabanc and there were strict rules governing the behaviour of visiting parties. A poster from 1863 has survived announcing the grounds to be open two days weekly, Mondays and Saturdays at a charge of sixpence per head. Visitors could not eat, drink or smoke in the grounds and were asked "not to linger in the Abbey or Gardens but to move slowly forward".
No such restrictions are in place today, visitors can stay all day and picnic wherever they like.
I haven't yet visited these sites, but will at some time having discovered the wealth pf photo opportunities, only a small percentage of which I have had space for on this page.
.
---
Planning Grid

Location:

Fountains Abbey and Studley Royal Water Gardens

Grid Reference:

SE275682 (Abbey)

Getting there:

4 miles W of Ripon, off B6265

Access:

Parking:

Parking Free at Abbey Visitor Centre for Abbey and gardens
Parking £3.00 at Deer Park

Facilities:

Things To Do, See and Photograph:

Abbey ruin, water gardens, scenic, statues, water mill, church, deer, and other wildlife, plants etc

What to take:

A variety of equipment from macro to long to wide angle.

Nature highlights:

Deer (3 types) plus more

Address:

Fountains Abbey

Ripon

North Yorkshire

Postcode:

HG4 3DY

Telephone:

Telephone: 01765 608888

Opening times:

Abbey and Water Garden, 1 Apr-30 Sept, Daily 10am-5pm

October 10am-4pm

Feb & Mar and Nov & Dec 10am-4pm, closed Fridays

Whole Estate Closed 24-25 Dec

Deer Park - Open All Year from 7am-9pm or dusk if earlier

St Mary's Church 1 Apr-30 Sep Daily 12noon-4pm

Charges:

Adult £8.15; Child £4.40; Family £20.90.

English Heritage and NT members: FREE

Deer Park and St Mary's Church: FREE

Deer Park Parking Pay & Display, Visitor Centre: FREE

Photo Restrictions:

None specific, you should have no problem at all taking pictures for your own use.

Other Restrictions:
None known
Special Needs Access:
You need to check their website to see how your specific needs are met, or call them. This is such a large and varied site that some parts may be more accessible than others.
Special Needs Facilities:
There will be a lot of facilities in the visitor centre probably less in more remote parts.
Children Facilities:
Looks a good site to take children but you may have to keep children under control near water.
Dogs Allowed:
On short leads only and Guide dogs, otherwise call to find out.
Please let us know any other information that we can add to the Further information and Planning Grids or page and any errors that you discover. Before making a long trip to any location it is always wise to double check the current information, websites like magazines may be correct at the time the information is written, but things change and it is of course impossible to double check all entries on a regular basis. If you have any good photographs that you feel would improve the illustration of this page then please let us have copies. In referring to this page it is helpful if you quote both the Page Ref and Topic or Section references from the Grid below. To print the planning grid select it then right click and print the selected area.
Please submit information on locations you discover so that this system continues to grow.