Cotswold Farm Park is a living museum with a difference, showing our animal and farming heritage. It is part of a 650 ha working mixed farm, farming both arable and livestock, Bemborough Farm. It was established in 1971 and claims to be Britain's first ever farm park. On display is a collection of rare breeds of British farm animals including cattle, pigs, sheep, horses, poultry and goats. It is also owned by Adam Henson a presenter on the BBC Countryfile Programme.
During the middle ages the rural populations would have kept a variety of animals to fulfill several roles from providing milk, meat, eggs, grazers, working horses, supplying materials such as wool and so on. As times and methods of farming have changed many of these breeds no longer had a use and some have become extinct while others the numbers have reduced considerably. In 1973 Joe Henson, Adams father became founder Chairman of a national charity, The Rare Breeds Survival Trust, which now has over 10,000 members all committed to making sure these animals do not become extinct. So the Cotswold Farm Park has been at the forefront of protecting and educating us on the rare breed species.
Each of the animals on display within the farm park represent examples of the breeding flocks and herds kept on Bemborough Farm.
On a visit to the Farm Park today you will see examples of a wide variety of breeds including, Herdwick and Soay Sheep, as well as the 'Cotswold Lions', which were bred for their long fleeces and formed the basis of the wool industry in the area, creating immense fortunes and allowing merchants to build large manor houses and imposing 'wool' churches. The farm still breeds them today. There are also Donkeys, Exmoor ponies, Shetlands and Shires, Gloucestershire Old Spot and Tamworth pigs, Angora goats and so much more.
It is very much a family led attraction and as well as the displays of farm animals there are also the following attractions:
Touch Barn - where you can get up close and personal with rabbits, guinea pigs, goat kids, lambs, piglets and newly born chicks.
Being part of a working farm they also provide seasonal demonstrations which include lambing, shearing, milking and visitors are encouraged to take part by bottle feeding lambs, rolling fleeces and handling wool as well as milking some of the wooden animals. There are also regular working animal demonstrations as well as the Sheep History Pyramid show.
Wildlife Walk - There are two trails one 2 miles long and takes about an hour, the other is 1 mile long. Arrows and information boards mark the route and there is also a leaflet outlining the route from the shop. Along the walk you will see wildflowers and wildlife as well as some historic features such as a Bronze Age burial mound, old quarry workings for Cotswold roofing slates, loads of dry-stone walls and a Cotswold dewpond.
The viewing tower at the far end of the site allows you to get a good view of the farm park as well as the beautiful surrounding Cotswold countryside.
For the children there is the Tractor School in the Play Barn where 3-12 year olds can ride on the battery operated tractors, an adventure playground with slides, sand-pits and mini diggers, swings, a combine harvester and obstacle course. A maze where on answering questions based on their rare breeds helps you find the correct path to find the Cotswold Lion. The 'Jumping Pillow' where 15 or more children and adults can bounce away together.
There is also a Farm Safari ride on a tractor and trailer ride around the farm and a Woodland Adventure obstacle course. You are encourage to feed the animals by buying bags of animals snacks at the entrance, but watch out for the goats who also are partial to the paper bags.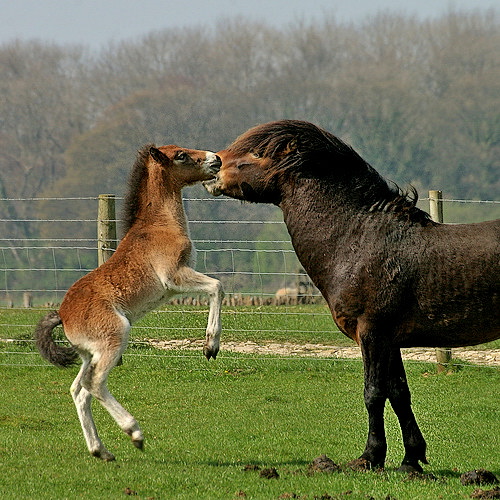 Skippy Foal
Click on small images in right hand panel to see larger versions