Dyrham Park

Nr Bath, Gloucestershire

Location Guide
A spectacular late 17th-century baroque mansion set in 274 acres of garden and rolling ancient deer park near the village of Dyrham in a Gloucestershire Valley, now under the management of the National Trust.
The Mansion House is a grand baroque house with spectacular sweeping views towards Bristol, was designed by Talman for William Blathwayt, Secretary at War during the reign of William III. The house is a showcase for 17th century Dutch decorative arts, including splendid Delftware, paintings and furniture. Later 18th-century additions include furniture by Gillow and Linnell. It also has restored Victorian domestic quarters which give an insight into life below stairs with an intriguing insight into life below stairs; including kitchens, tenants' hall and delft-tiled dairy.
The remains of some farm buildings exist on part of the site and is home to some old farm implements and carts.
Elegant formal gardens like the West Front garden have lawns, statues, a hot house, Family Chapel, 2 large water features one with a small cascade running into it planting consists of climbers on walls such as wisteria, and planting in the garden areas and around the canal.
For all images on this page. Click on smaller images to see larger versions

There are also woodland and lakes to explore via various paths which go through the park.
The parkland includes an ancient deer park which is home to around 200 fallow deer. The deer are not usually around the main areas that visitors use and it is necessary to walk the rolling landscape to find them. They are usually found in groups either eating, moving between venues or in clumps resting under some of the large trees around.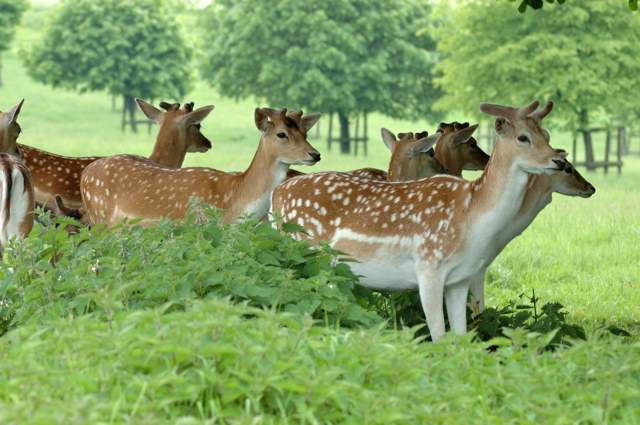 For all images in this 8 image rotator
---
Location: Dyrham Park, Nr Bath, Gloucestershire

Grid Reference: ST743757
Ceremonial County: Gloucestershire

Map Link: StreetMap

Aerial photo: Google Aerial Photo

Getting there: On the A46 a mile from junction 18 on the M4 motorway. The Cotswold Way passes the property.

Access: From the A46 car park just inside the entrance gate to the left. From here you walk downhill around a curvy drive to the mansion house which you can see in the valley below. Be aware this means there is a walk back up to your car. There is limited car parking down by the house, but you will still have to walk uphill to get to the deer who tend to be on the father reaches of the rolling landscape around.
Website: Own
Other Useful Websites:
Email: dyrhampark@nationaltrust.org.uk
Address: Dyrham, nr Bath, Gloucestershire
Postcode: SN14 8ER
Telephone: 0117 937 2501

Opening Times: Park Open All Year except 25th December. 10am-5pm

House: 14th Feb-28 Jun Fri-Tue 11am-5pm; 1 Jul-30 Aug Daily 11am-5pm;
2 Sep-30 Oct Fri-Tue 11-5pm; 5 Nov-18 Dec Weekends Only 11am-4pm

Garden: 11am-5pm on 14th Feb-28 Jun Fri-Tue and 1 Jul-30 Aug Daily; 2 Sep-30 Oct Fri-Tue;
5 Nov-18 Dec Weekends Only.

Charges: Free for National Trust members.

All inclusive: Adults £10.50; Child £5.45; Family £26.25.

Garden & Park only: Adult £4.20; Child £2.10; Family £9.35;

Park only: Adult £2.60; Child £1.54; Family £6

Nearby Locations:
Other Location Pages: Deer Park Where to Photograph Deer in the UK

Notes: Dog walking area close to main car park - not allowed in main deer park

Disabled parking near the house. Other facilities include a shop and restaurant.
Please let us know any other information that we can add to the Further information and Planning Grids or page and any errors that you discover. Before making a long trip to any location it is always wise to double check the current information, websites like magazines may be correct at the time the information is written, but things change and it is of course impossible to double check all entries on a regular basis. If you have any good photographs that you feel would improve the illustration of this page then please let us have copies. In referring to this page it is helpful if you quote both the Page Ref and Topic or Section references from the Grid below. To print the planning grid select it then right click and print the selected area.
Please submit information on locations you discover so that this system continues to grow.