Holkham Nature Reserve

Wells-next-the-Sea, Norfolk

Location Guide
This National Nature Reserve covers an area of 9,768 acres from Burnham Norton to Blakeney. The main section is from Wells to Holkham Bay and is crisscrossed by paths allowing access to all the best wildlife habitats. It is made up of a grazing marsh, salt marsh, dunes and pine woods. The windswept tide lines, the maze of creeks and saltings, miles of dunes and sandpits, shady pinewoods, green pastures and marshes give a mix of habitats and a blend of wildlife.
It is possible to explore most of the area by following footpaths from the main settlements or from the 2 car parks which are linked by the Norfolk Coast Path at Lady Anne's Drive and Wells Beach Road, both have charges.
What you are likely to see on a Winter visit:

Migrant birds, landing exhausted in the seablite bushes in late October

Thousands of Pink-footed geese leaving their roost on Bob Halls Sand at Wells

Large numbers of wildfowl such as up to 5,000 pink-footed geese feeding on the harvested sugar beet fields, but also white-fronted geese, brent geese, and wigeon in the fields on either side of Lady Ann's Drive

At sunset the site of thousands of geese taking off and flying in their skeins back to their sandbank roosts.

Brent Geese feeding in Holkham Bay

Flocks of larks, finches and pipits in Holkham Bay

A peregrine or harrier being buzzed by a cheeky blue tit or pipit

Mixed flocks of larks, finches and pipits in Holkham Bay

On the tideline - lots of sculpted driftwood, stones etc

Dawn sunlight over Stiffkey Marshes

Dew on spiders' webs in October

What you are likely to see on a summer visit:

Little and common terns fishing in Wells Harbour

Dancing of the male ghost swift moths at twilight

Saltmarshes covered in plants

Orchids in the Wells Dell in late June or early July

Dashing flight of a dark green fritillary over the dune flowers

Purple haze of sea lavender across the saltings

An evening panorama from Gunhill

Lady Ann's Drive Ian Lavender

Click on the images to see larger versions

A Nesting Beach Ian Lavender
The main Pinewoods/Holkham Gap track runs through the scrub and is a good place to see both birds and butterflies. In spring the early flowers attract post-hibernating species like die brimstone and the peacock and these are then followed by the orange tip, the meadow brown, ringlet, common blue and large skipper. Scarce butterflies that have been seen here include the green and purple hairstreak, comma and holly blue.
The reclaimed saltmarshes between the pine ridge and coast road has brought back large numbers of over wintering migrants and recent peak counts have been 20,000 pink-footed geese, 7,000 Brent Geese and 13,000 Wigeon. From the hides in this area you may also see Marsh Harriers, Grey Heron,

Lapwings, Redshank, Spoonbills, Teal, Kestrel in Spring, Yellow Wagtails feeding around the feet of the cattle which are there to control the habitat.
During the Summer when the beach/sand dunes are also frequented by humans there may be cordoned off areas to protect wildlife nesting and raising their young there. The Sand Dunes have wooden broadwalks provided to minimise the impact of human footfall.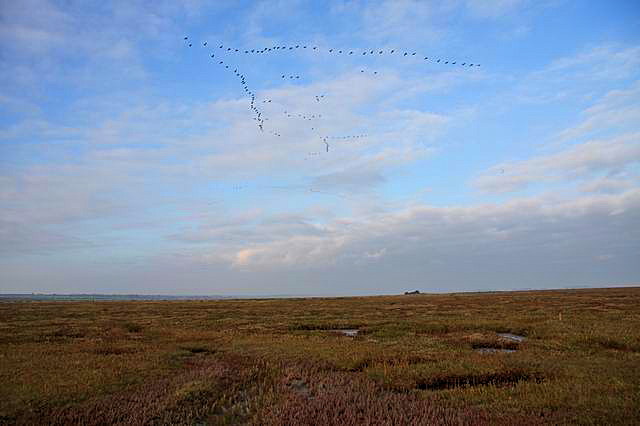 A Skein of Geese flying across the Saltmarshes

Hugh Venables

---
Location: Holkham Nature Reserve, Wells-next-the-Sea, Norfolk

Grid Reference: TF892440
Ceremonial County: Norfolk

Map Link: Multimap

Aerial photo:

Getting there: Holkham National Nature Reserve is three miles west of Wells-next-the-Sea on the main A149, within easy reach of Norwich on the A1067, King's Lynn on the A148 and London and Cambridge from the M11 and A10.

Access: From the Norfolk Coast Path and from 2 car parks, one at Lady Anns Drive and the other at Wells Beach Road.
Website: www.holkham.co.uk/naturereserve/
Other Useful Websites: Natural England
Email: enquiries@naturalengland.org.uk
Address: The Site Manager, Hill Farm Office. Main Road, Holkham, Wells-next-the-Sea, Norfolk
Postcode: NR23 1AD
Telephone: (01328) 711183
Opening Times: At all times

Charges: No charge to access, A car park charge is payable at both car parks.

Nearby Locations: Holkham Hall and Park
Other Location Pages:

Notes: Dogs should be kept on leads and away from cordoned off areas
Please let us know any other information that we can add to the Grid(s) or page and any errors that you discover. Before making a long trip to any location it is always wise to double check the current information, websites like magazines may be correct at the time the information is written, but things change and it is of course impossible to double check all entries on a regular basis. If you have any good photographs that you feel would improve the illustration of this page then please let us have copies. In referring to this page it is helpful if you quote both the Page Ref and Topic or Section references from the Grid below. To print the planning grid select it then right click and print the selected area.
Please submit information on locations you discover so that this system continues to grow.