Carn Euny Ancient Village
Cornwall
The remains of an Iron Age settlement, with foundations of stone huts and an intriguing curved underground passage, or fogou, thought to have originally had only one entrance. You can see the layout of the village and individual houses, but it is the fogou that most come to see. The courtyard houses are not as impressive as Chysauster, but nevertheless are well worth the visit as well. Chysauster also has a fogou but it is incomplete and largely ruined.
The fogou might have been a place to store the excess food the communities store. The construction is based on an internal beehive chamber, leading off from the main passageways. The size being about 3 metres tall reaching up to ground level and 5 metres diameter.
A fogou is an archaeological hole in the ground dating from between about 500BC to 500AD. "fogou", pronounced foogoo, comes from the Cornish word for a cave. They have been known in dialect as vugs, vows, foggos, giants holts and fuggy holes. 12 remain in Cornwall. They are similar to souterrains, found in numbers in Scotland, Ireland and many other Celtic countries, this was an underground passage, usually with only one entrance, often hidden, these were places of safety, and safe storage or foodstuffs and valuables. Some were also a tunnel that provided a safe way of entering and leaving a defended place, many are associated with stone forts.
It struck me at Carn Euny as well as a some longbarrows that it's used as a safe place, as people entering had to bow low or crawl. It would both be impossible to rush these places and anyone inside with club would be in a very strong defensive position.
Another feature of the Carn Euny Fogou is that the moss in the fogou appears to glow, but you have to be positioned just right. It is in appearance similar to small fibre optic lights in effect. I went there before we had our digital cameras and with film, photographing it was not possible, I would like to visit again at some point and have a go at photographing this effect, I think it could be done now. Some think what is happening is that the moss is reflecting light back from small water droplets, others that the moss has a form of chemical luminance, I would think this would be easy enough to solve, just by blocking the light from one direction or another, but didn't realise the discussion existed back when I visited it. If you're tallish then stand in the middle of the round room and look straight at the walls, move your head around and you'll suddenly catch the brilliant green reflections. Short people have to get in closer to get the right angle. You can see the whole wall light up in some areas.
The rest of the site is interesting, and you need some time to look and consider it fully. Its not visited by as many people as Chysauster, and for that reason it may be easier to get photographs. With these images you need to decide if you are going to include people or not, when included you get a better idea of size. Perhaps it would be fun to take along a few people dressed as we think the people of the period these houses were used would have looked, but as people were then smaller, probably you would need to use children.
While you're there why not go on and visit the holy well nearby, take the path out near the top (with the 'pottery' sign ) and turn right when you hit the road opposite a very nice garden and building, after walking about 20 yards take the slightly overgrown path to the left along the boundary of the garden.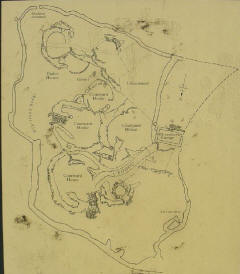 Click on Images to see a larger version
See also
The discussion on the purpose of stone circles
---
Planning Grid
Location:

Carn Euny, 6km East of Newlyn, Cornwall

Grid Reference

SW402288 Landranger Map: 203

Map Link:

Getting there:

1.5 miles SW of Sancreed off A30 extremely narrow single-track lane.

Sign posting is poor to non existent, so you need a map to get to this site.

Access:

Park and walk a short distance uphill.

Parking:

Road side, free. Also 600m walk from Car Park in Brane.

Facilities:

None from memory

Things To Do, See and Photograph:

Fogou, remains of very ancient homes, village layout, countryside.

What to take:

Torch, you will need a map to find this location.

Nature highlights:

In countryside location, but I don't have further details on plants and wildlife.

Best Times to Visit:

Maybe best to avoid after heavy rain as some say entrance to fogou can be a problem, and maybe best out of the main tourist season if you can, although this site is not heavily visited.

Address:

Postcode:

Telephone:

E-mail:

Website:

Opening times:

Open all the time.

Charges:

Free

Photo Restrictions:

None

Other Restrictions:
None
Special Needs Access:
Special Needs Facilities:
Children Facilities:
Dogs Allowed:
Yes

Other useful websites:

http://www.themodernantiquarian.com
/site/231/carn_euny_fogou_and_village.html

CIN Page Ref:

carn_euny

Date Updated: 02/08
Please let us know any other information that we can add to this Planning Grid or page and any errors that you discover. Before making a long trip to any location it is always wise to double check the current information, websites like magazines may be correct at the time the information is written, but things change and it is of course impossible to double check all entries on a regular basis. If you have any good photographs that you feel would improve the illustration of this page then please let us have copies. In referring to this page it is helpful if you quote the CIN Page Ref at the bottom of the Planning Grid above. To print the planning grid select it then right click and print the selected area.
Please submit information on locations you discover so that this system continues to grow.