Cullerlie Stone Circle
Aberdeenshire, Scotland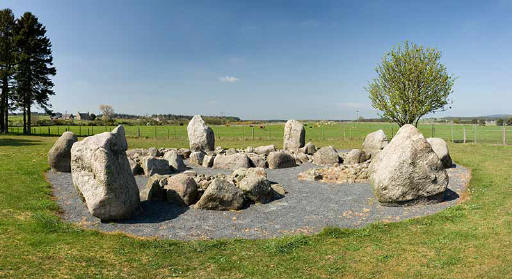 Click on Images to see a larger version
This circle consists of 8 rough boulders set in a circle 10.1m in diameter.
An outer ring of standing stones inside which are seven small burial cairns. It has been renovated.
Excavation by Kilbride-Jones in 1934 revealed quite a surprise lying hidden under the peat. No less than eight small cairns were found within the circle. The largest cairn at the centre of the circle (measuring 3.4m in diameter) comprised of eleven kerbstones and a central capstone-covered pit. This pit contained oak charcoal to a depth of 25cm and fragments of human bone. Between the central cairn and the outer circle were a further seven cairns, six of which contained evidence of cremations in the form of oak or hazel charcoal. The area within the stone circle also contained a large amount of willow charcoal. Flint was also found during the excavation.
Excavation has established the following construction sequence:
the area was levelled
the stones erected
the ground burnt all over by bonfires of willow twigs.
A pit was dug in the centre of the circle and used as a fire pit. A small cairn with a pronounced kerb was built over this pit and seven smaller cairns were constructed inside the circle on top of the ash layer.
Some love this site, others say its a garden project. Whatever you feel, 8 cairns within a circle is unusual.
This site is not likely to be of interest to New Age groups.
See also
The discussion on the purpose of stone circles
---
Planning Grid
Location:

Cullerlie Stone Circle, Echt, Aberdeenshire

Grid Reference

NJ785043 OS Landranger series: 38

Map Link:

Getting there:

Turn south off B9119 Aberdeen/Tarland Road at Garlogie, in 250m fork left; circle lies on left of road in 1km

or

From the A944 W from Aberdeen, take the left turning for Echt. After about 3½ miles, take the B9125 S towards Banchory. Shortly after this turning turn along the lane to the left. The next left signposted for Cullerlie leads right past the circle which is signposted to the left of the road, just before the farm.

Access:

Off road, signposted

Parking:

Ample parking

Facilities:

None

Things To Do, See and Photograph:

Unusual arrangement of stones

What to take:

Nature highlights:

Country location

Best Times to Visit:

Address:

Echt

Aberdeenshire

Postcode:

Telephone:

E-mail:

Website:

Opening times:

no restrictions

Charges:

none

Photo Restrictions:

none

Other Restrictions:
none
Special Needs Access:
Level and no known problems, near the road, easy walking
Special Needs Facilities:
Children Facilities:
No problems
Dogs Allowed:
Nothing specified. mention of farm dog greeting visitors

Other useful websites:

CIN Page Ref:

cullerlie_stone_circle

Date Updated: 02/08
Please let us know any other information that we can add to this Planning Grid or page and any errors that you discover. Before making a long trip to any location it is always wise to double check the current information, websites like magazines may be correct at the time the information is written, but things change and it is of course impossible to double check all entries on a regular basis. If you have any good photographs that you feel would improve the illustration of this page then please let us have copies. In referring to this page it is helpful if you quote the CIN Page Ref at the bottom of the Planning Grid above. To print the planning grid select it then right click and print the selected area.
Please submit information on locations you discover so that this system continues to grow.