King Alfred's Tower

also known as Stourton Tower

Brewham, Somerset

Location Guide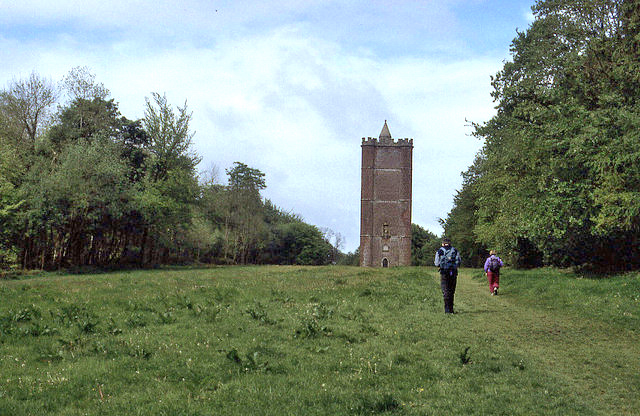 Picture by Chris Heaton


The tower made of about a million bricks, is 49m (160ft) high, and is triangular in plan, with round projections at each of the three corners. One of these, furthest from the entrance door, has a spiral staircase within it by which visitors can climb the 205 steps to the top, where there is a platform with a crenellated parapet. The staircase is not well illuminated, with only ten small openings to admit a little daylight. The centre of the tower is hollow and open to the elements, in recent years a mesh has been placed over the opening at the top to prevent birds from entering the tower. The total girth of the tower is approximately 51m (168ft), which means that the tower's circumference and height are about the same.

It is said that when originally built, the tower stood at the union of the boundaries of the counties of Somerset, Wiltshire, and Dorset, with one corner of the triangular base in each county and that in more recent times the Dorset boundary was moved so that the tower now just straddles the Wiltshire-Somerset border.

The project to build the tower was conceived in 1762 by the banker Henry Hoare II (1705-1785), owner of Stourhead and creator of its famous garden, known to his family as 'the Magnificent'. The tower was intended to commemorate the end of the Seven Years War against France and the accession of King George III, and supposedly stands near the location of 'Egbert's stone' where it is believed that Alfred the Great, King of Wessex, rallied the Saxons in May 878 before the important Battle of Ethandun (now Edington, south-east of Trowbridge) where the Danish army was defeated.

The west side Photo by J Tucker
To see another image similar click here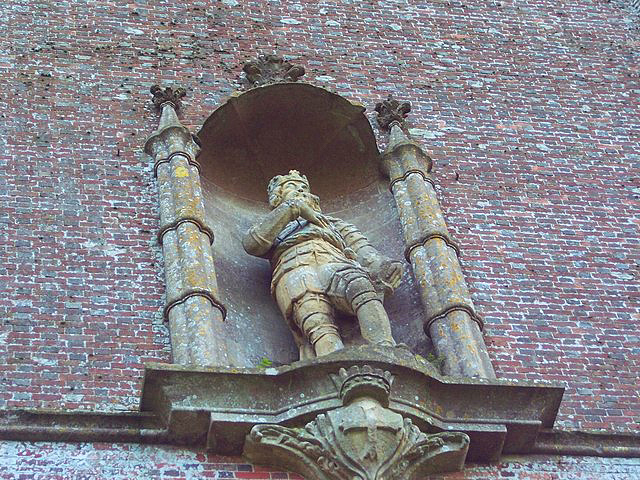 Statue of King Alfred on the tower
Photo by Trish Steel


The stone tablet above the door on the east face of the tower reads:
"ALFRED THE GREAT
AD 879 on this Summit
Erected his Standard
Against Danish Invaders
To him We owe The Origin of Juries
The Establishment of a Militia
The Creation of a Naval Force
ALFRED The Light of a Benighted Age
Was a Philosopher and a Christian
The Father of his People
The Founder of the English
MONARCHY and LIBERTY"
There are very good views from the top.
---
Location: King Alfred's Tower, Brewham, Somerset

Grid Reference:

ST745351

Ceremonial County: Somerset

Map Link: OS getamap

multimap

Aerial photo: multimap

Getting there: On the Stourhead estate, see map.

Access: To the outside is at any time, inside only when open.
Website: NT page

Other Useful Websites: Website on the tower

Email: stourhead@nationaltrust.org.uk
Address: Stourhead Estate Office, Stourton, Warminster, Wiltshire
Postcode: BA12 6QD
Telephone: 01747 841152
Opening Times: Inside 15 Mar–2 Nov 08 11:30-4:30 every day. Outside can be seen at any time

Charges: Inside £2.60 (£2.20), child £1.40 (£1.20), family £6 (£5.40). Groups (£2.30)

Outside Free

Nearby Locations: Stourhead estate, (this is a part of) NT Stourhead
Other Location Pages: List of Follies in the UK

Notes:

---

| | | |
| --- | --- | --- |
| Page Ref: King_Alfred's_Tower | Classification: Follies | Date Updated: 10/2008 |
---
Please let us know any other information that we can add to the Grid(s) or page and any errors that you discover. Before making a long trip to any location it is always wise to double check the current information, websites like magazines may be correct at the time the information is written, but things change and it is of course impossible to double check all entries on a regular basis. If you have any good photographs that you feel would improve the illustration of this page then please let us have copies. In referring to this page it is helpful if you quote both the Page Ref and Classification from the Grids above. To print the planning grid select it then right click and print the selected area.
Please submit information on locations you discover so that this system continues to grow.